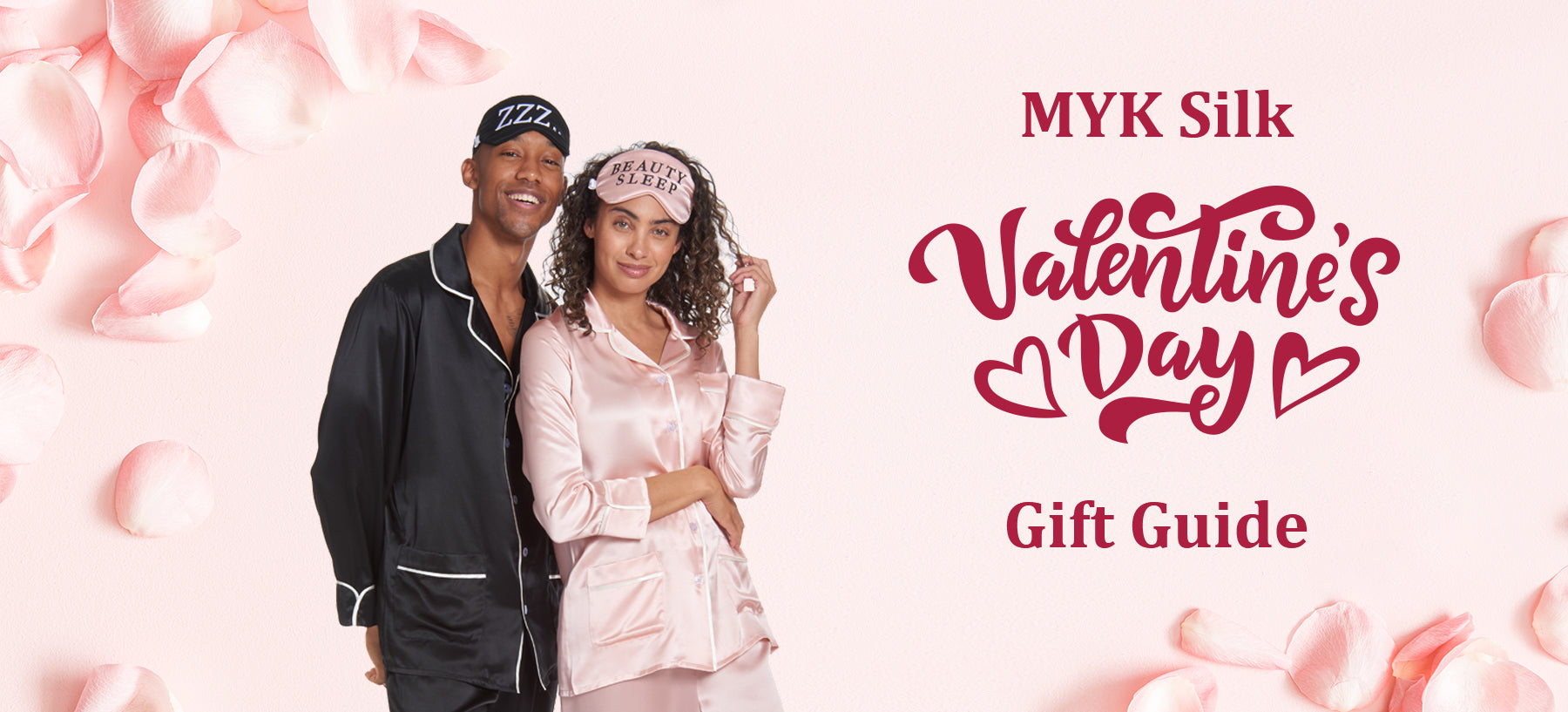 Valentine's Day Gift Guide
MYK Silk Valentine's Day Gift Guide For Her & Him
Valentine's Day is right around the corner, whether you're celebrating with your significant other, your best friends or anyone else, this is the perfect time to show the special people in your life just how much you love them. If you're still unsure of what to get your loved one this valentine's day, we've got you covered. Here are some luxurious silk bundles that are bound to make anyone feel loved on V-day.
Silk Bundles For Her
Silk Pillowcase + Twisted Silk Headband
Spoil your special one with some beauty sleep this Valentine's Day. This ultimate sleep bundle will bring your sleep to the next level, waking up with silky frizz-free hair and moisturized wrinkle-free skin.
Silk Scrunchies Combo + Pure Silk Ribbon Combo
Love is in the air! Love is in the hair! Play around with our silky hair accessories to elevate your valentine's look without damage to your hair!
Silk Robe + Padded Spa headband
What better gift to give than the gift of comfort to your loved one this holiday. Slip into the sweetest silk robe paired with the spa headband, add luxury to your self care routine
Silk Bundles For Him
19 mm Silk Pillowcase + 19mm Beauty Eye Mask
Who doesn't love a gift of beauty and wellness?! Enjoy a more restful night's sleep with this ultimate sleep bundle. Our soft eye mask will block out lights to help you fall asleep faster and sleeping on our silky pillowcase improves your sleep quality, making you wake up with a refreshed glow every morning
Men Pajama Shirt + 25mm Silk Pillowcase
Nothing is more romantic than comfort. Get cozy this Valentine's day in our comfiest silk pajamas shirt and incredible soft silk pillowcases. You will feel like sleeping on clouds and get an extra well rested sleep.
Men Silk Robe + Luxury Eye Mask
A gift of luxury they'll be sure to love! Indulge in our unparalleled luxury silk robe and the luxurious eye mask to elevate your life and your style. Our silk robe is so smooth, breathable and naturally thermal regulating, makes everyday luxurious and keeps you comfortable year-round.
We hope our gift guide gives you the perfect gift ideas to spoil that special someone. Hope this year will be full of the sweetest and most luxurious surprises. Happy Valentine's Day!
For any other purchases, you can use Code VT2023 for 23% OFF your purchase (bundles excluded). Happy Holidays!