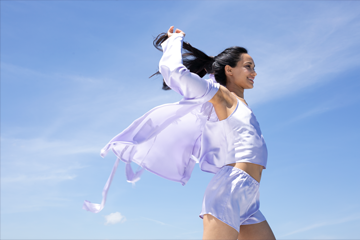 Wearing Silk Pajamas Outside
Silk: one of the most comfortable fabrics known on Earth (and maybe in the whole universe).  It's a great fabric for summer wear, especially when you want to wear loose, flowy clothing to stay cool.  The only problem is that its very softness can make it look like you're wandering around outside in your pajamas.  What's more, some of the best looking silk clothes are pajamas. There *is* good news, though!  Wearing pajamas outside isn't just for college students anymore: it's a full-fledged fashion trend, and it's been featured in Cosmo, GQ, Quartz, and basically every fashion blog, website, and magazine in the universe.  Now, if you want to take advantage of this trend, you can't just wake up, throw on a pair of bunny slippers, and go to work: it's a little more complex than that - it all comes down to what you wear to complement your PJs.
Need to look professional, but want to wear light silk clothes?
A loose outfit can look a little too airy for you to be taken seriously in a professional situation, particularly if it's part pajama.  If you look like you're going to float away with the breeze or collapse onto the nearest piece of furniture for a nap it's going to be hard to inspire confidence in your mental abilities.  Professional looks are solid and try to suggest confidence and structure as opposed to liberation. The easiest way to do that is to mix in a strong structural element: a pencil skirt with your silk cami, a solid fitted blazer with your loose dress, and strong heels and a stiff scarf if you go full bore and wear a silk top and bottom.
Want a versatile piece that you can use to look either more casual or more polished?
A silk robe is an extremely versatile outerwear piece.  It can be paired with jeans to add a touch of class and polish to what would otherwise be a casual outfit, yet the very same robe can be worn with a more conservative dress to look a bit more relaxed and outgoing.  The silk robe's versatility as a piece of outerwear lets you make a powerful statement while mixing up your look and giving your style some variety.
Worried about jumping head first into the pajama look?
Taking just a pajama top and incorporating it into what would otherwise be a normal outfit may be the equivalent of touching your big toe into a cold lake, but it's a great statement on its own.  It's a casual look that doesn't stray into being too avant-garde: a bit conservative, but still a little daring. In this case, the main thing is just to ensure you stay color coordinated - a neon orange top still won't go well with green pants even if one them is a pajama.   
Daring and raring to try out this bold new style?
Wearing an entire pajama focused outfit is the most adventurous option, and although it can be intimidating, it's not very difficult to pull off.  The most important thing is to take the design of the pajama into account. A patterned pajama gives you a bold look, and the best way to support that is with an understated bag and casual shoes, allowing your pajamas to take center stage.  A solid color of pajama, however, is often best supported with heels and a flashier bag, giving you a more put together look – depending on the design of the pajamas you may even be able to wear this look to the office!