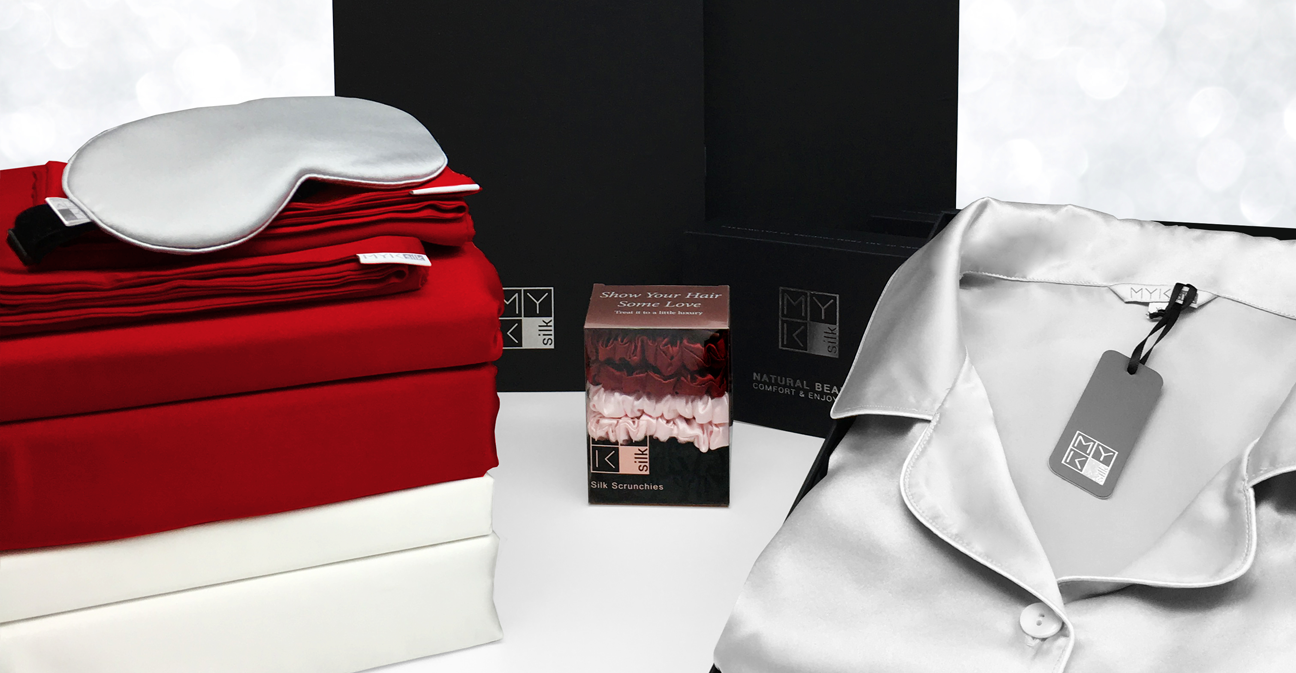 It's officially that time of year! The time when we lounge around in our cozy and festive layers while shopping online with a peppermint Mocha in hand. No matter your budget, our gift guide shares some top picks from the MYK Silk team for everyone on your list, from the comfort seekers to the hair care and beauty obsessed!
Whether you're searching for that perfect stocking stuffer or a little something to give to your family and friends, we've got you covered. Our 19 Momme Silk Pillowcase along with the Beauty Eye Mask (as seen in Best Products) are one of the best budget-friendly and thoughtful gifts you'll find for everyone on your list. Each supersoft Beauty Eye Mask is available in colors ranging from your classic french greys to festive reds and golds with a silk pillowcase to match every style!
From our 25 Momme Pillowcases  (as seen in Business Insider) to our versatile Silk Camisoles to cozy accessories, our under $50 assortment is sure to wow even those who are difficult to shop for this holiday season! Our new and already popular Silk Scrunchies are a must have for any beauty lover who wants to show their hair some love! These chic scrunchies come in sets of all black, mix of jewel tones and a classic mix of black, burgundy, and pink and are sure to keep your hair snag and crease free all throughout the holidays!
Don't forget, Our silk camisole comes perfectly packaged in a gift box so it's always gift ready!
For those who have been extra good this year, you certainly won't have trouble finding the best gift. From the limited edition - 30 Momme Silk Pillowcases to the luxurious Silk Kimono Robe, this gifting category has a wide range of goodies you can get for everyone on your list. Our luxurious Silk Chemise nightgown is not only great for lounging in, but also provides a luxurious base to mix with outerwear or for a refined, minimalistic style.
Sometimes the holidays call for an extra special gift. Slide into comfort with our silk bedding sets available in eight colors along with our ready-to-go Silk PJ Sets to keep you comfy and toasty inside. Our elegant Silk Robes will make you or your lucky gift recipient feel comfortable and extra stylish all winter long. Our newest Silk Bedding Sets bring luxury and comfort to any bedroom! 
From family and friends to that special someone in your life, the MYK Silk team hopes you find the perfect gift to show them how much you care!
Use Code HOLIDAY15 for 15% OFF your purchase. Happy Holidays!
Please email us at info@myksilk.com if you have any questions!