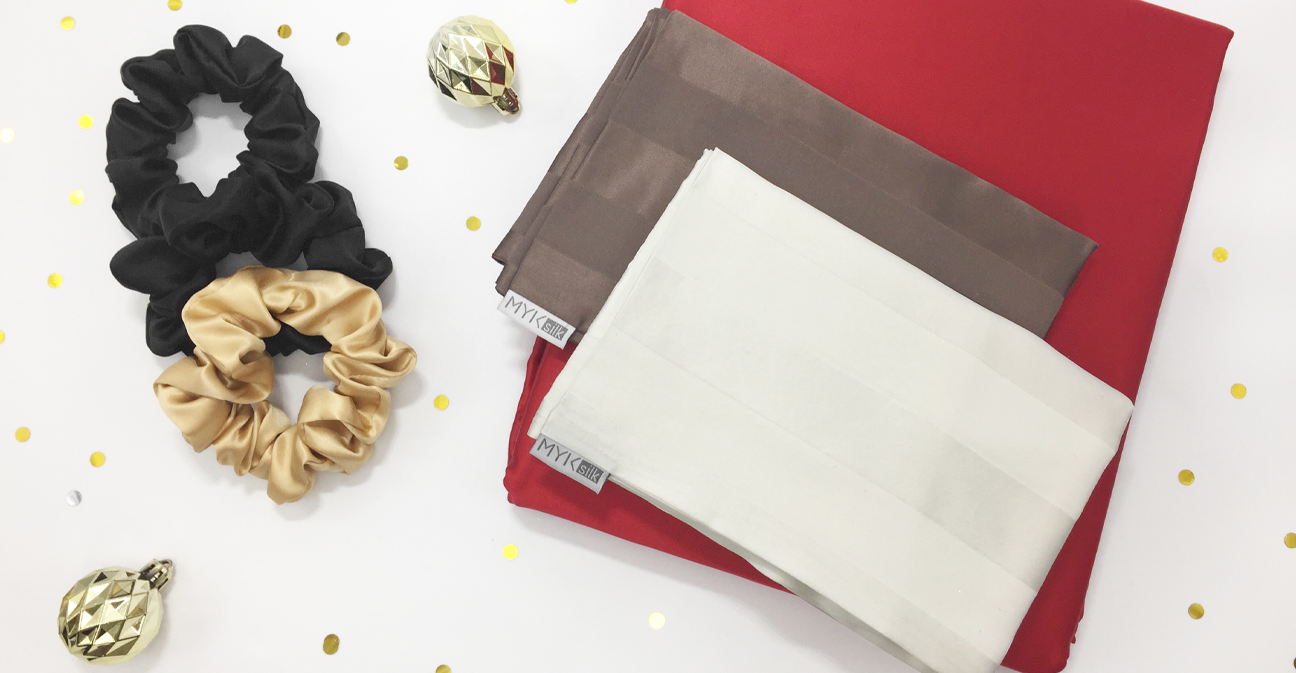 Start 2019 With These Must-Haves
It's that time again to say goodbye to our old habits and head into the new year with a fresh take on our beauty regimens. While New Year's resolutions can get a bit stressful, the beginning of the year is always the perfect time to re-evaluate your self-care routine.  
Read on to find out how a few of our new luxuries will help upgrade your beauty sleep in 2019!

Say hello to one of our most-loved new arrivals - our Silk Scrunchies. From hitting a spin class to avoiding creases in your hair while you sleep, silk scrunchies are the secret to perfect hair days. With their pure mulberry silk construction, these chic day-to-night accessories will effortlessly become the hair must-have you never thought you needed!
The scrunchies come in two sizes - small or large. The set of 3 large ties are  optimal for thicker hair while the set of 6 small ties is perfect for shorter, finer hair.
Show us how you love your scrunchies with #MYKScrunchie

We spend a third of our lives in bed, so having a quality pillowcase is a nighttime necessity for any beauty sleep. With the same skin & hair benefits we love, our newest silk pillowcases come in classic stripes that will elevate and add style to any bedroom. Start 2019 with these all-around perfect affordable luxuries to help you have the most rejuvenating sleep you deserve.
The Striped Silk Pillowcases are available in 3 classic colors: White, French Grey and Coffee.
Our newest silk sheets are the classic foundation for the comfiest slumber you'll experience in 2019.Crafted with the purest mulberry silk, they look and feel like a total dream. Their ultra smooth and hypoallergenic fibers help keep your face and body hydrated all throughout the night without stripping your skin of moisture. When it comes to the ultimate beauty sleep, silk sheets are must-have investment with natural benefits that will last a lifetime.
Our silk bedding set includes: 1 Seamless Flat Sheet, 1 Fitted Sheet, 2 Pillowcases.
The  seamless and fitted sheets are available separately  in a variety of 8 different shades for every style.
The MYK Silk team hopes you have the warmest and most wonderful New Year!