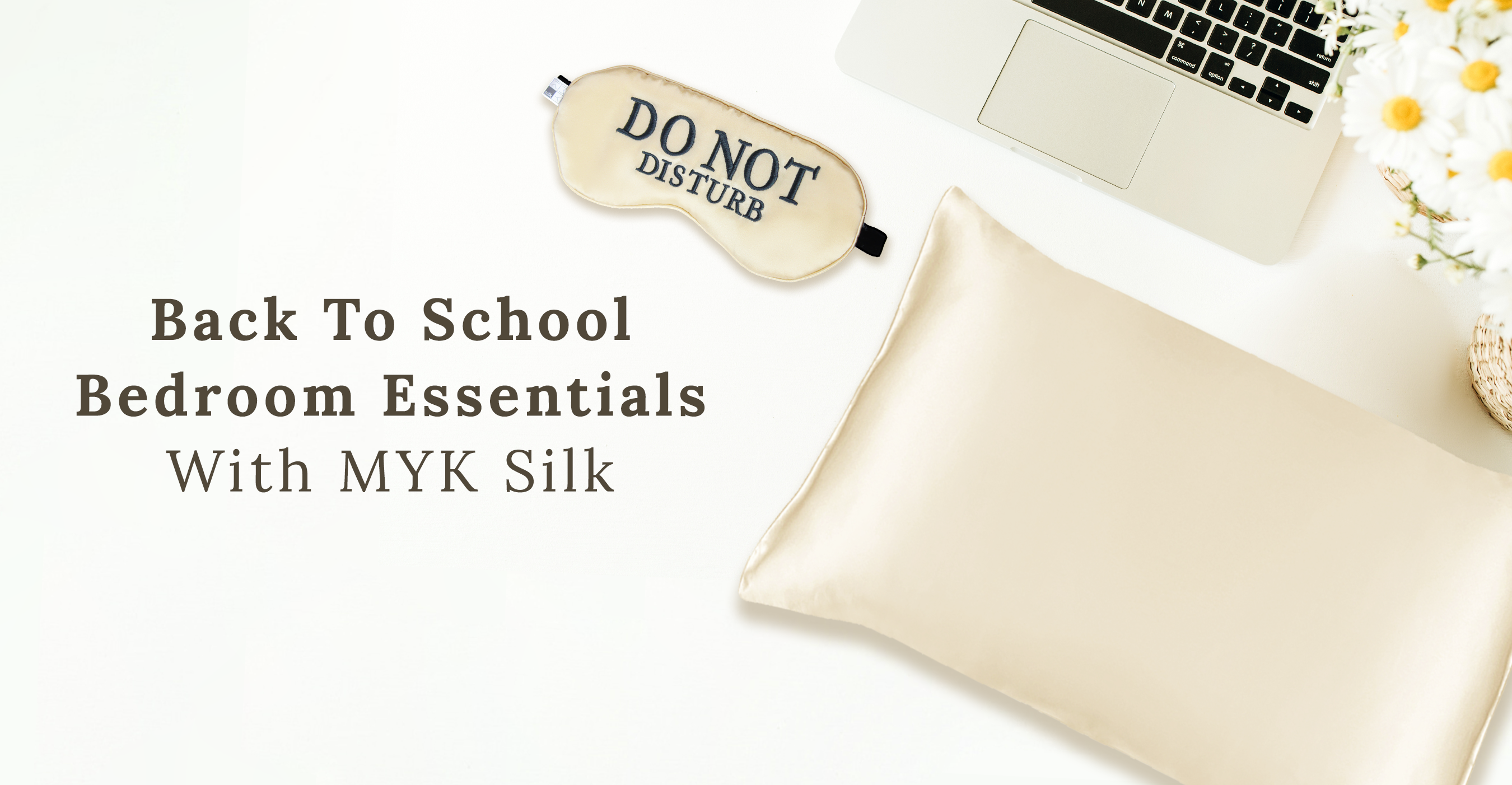 Back To School Bedroom Essentials With MYK Silk
After a hectic year, back to school is finally back in session! School comes with late night studies, going out with friends, working etc, and after a long day all you will want to do is jump in bed to wind down for the night. So, the most important part of back to school shopping is making sure your bedroom feels extra cozy and comfortable, especially your bed!
To make it easier, we put together a list of bedroom essentials we think you'll need to get you through the semester. Read below to see what to put on your checklist, Happy Back to School!
Bedding
There's nothing better than climbing into your bed after a long day and feeling the softness of the sheets against your skin. Bedding is an essential to a better night's sleep! Choose bedding that is higher quality, that means higher thread counts for sheets, and  higher quality of cotton fabric. High quality means it stands up to wear and tear so it will last you longer than a semester. It's also softer and feels better on your skin!
Eye mask
Having trouble falling asleep from distractions is the worst thing especially if you know you have to be up super early the next day for school. MYK Silk eye mask will help block out all distracting light! Its luxurious and extra puffy filling will also help protect the delicate area around your eyes so you'll wake up feeling well rested. Having an eye mask will be a lifesaver to get you restful, deep sleep, say good-bye to tossing and turning!
Laptop Desk
Sometimes you just want to work from the comfort of your bed, who hasn't been there? A laptop tray is a school accessory must-have on our list! It's convenient to move around so you're comfortable at all times and it's easier for you to write your papers, or browse the internet in bed without having to strain your neck or back since it's at eye-level. Having an an adjustable work space is super convenient!
Pillow
A comfy pillow is definitely something you're going to want to have for a great night of rest! Start by choosing the perfect pillow for you, do you like your pillow more on the firmer side or soft? Finding the right pillow for you will help you sleep better at night and won't cause any neck pains or sleeping issues.
Silk Pillowcase
You'll probably want to get as much sleep as possible before your alarm goes off, we get it! With a silk pillowcase you can wake up with hydrated skin and frizz-free hair. No bed-head means minimal effort to get ready in the morning, 
Desk Organizer
Having a cluttered work space can make you feel stressed and unmotivated.
Have all your things in one place like all your notebooks, planners, pens, etc. It will be much easier to find if you have an organized space for it, and it looks neat on your table. Staying organized is the key to success in school!
Over The Door Mirror
An over the door mirror is perfect for those outfit checks and it's great because it doesn't take up any floor space! Having a mirror in your bedroom will open up your space, making it appear bigger and brighter.
We hope this list made it easier and sparked ideas for you to include on your back to school list for an organized and successful semester, Happy Back to School from the MYK Silk team!