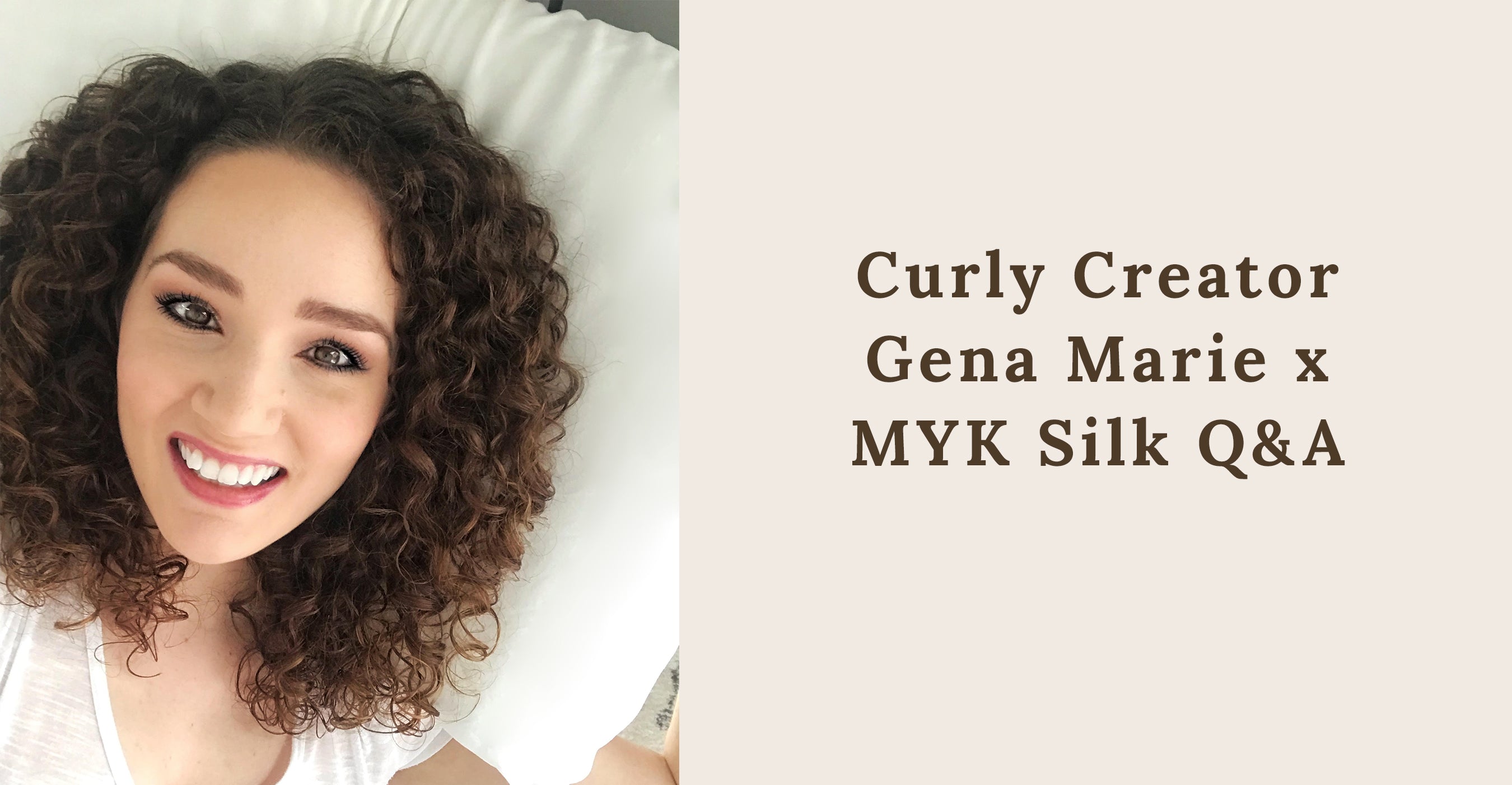 Curly Creator Gena Marie x MYK Silk Q&A
In this Q&A Gena shares her passion for embracing natural hair, her journey in the hair community, her must-have hair products, and goals she has for her platform. You can also check her out on Instagram @genamarie.co to learn more about her curly hair tips and tricks! Read on below to learn about Gena!
1. Tell me a little bit about yourself
I'm a content creator focused on helping others embrace their naturally curly hair through instructional videos, science-based info, and detailed product reviews. I love helping beginners who are just starting their natural hair journey learn about curls and find a routine that works for them. I've had a YouTube channel and blog for over 10 years now and have enjoyed connecting with so many curl-friends.

I also work in social and paid media by day, and enjoy the work from home life with my 2 dogs and husband in our mountain home.
2. How did you get started in the curly hair community?/ tell us about your curly journey
I first started to really take care of my curls when I stopped heat styling about 4-5 years ago. Ironically, I started my YouTube channel with a video about "How to Straighten Curly Hair." I loved playing around with hot tools and was always trying to perfect that big, loose curls look and smooth hair. My hair was so damaged from heat styling and hair dye. It was weighed down from silicone build-up, and very dry from using harsh surfactants. I didn't even know how curly my hair actually was because it was so limp and lifeless.
I realized that if I could get my natural curls to actually look good and be healthy that I would want to wear it more natural. I stopped straightening and using hot tools and switched to sulfate and silicone-free products. I also stopped dying my hair and began to grow out my damaged highlights, getting frequent trims.
Once I started to see ringlets return, I knew I was onto something and began sharing my journey on YouTube. This is when my content really shifted from beauty to focus only on naturally curly hair as I found the textured hair community. I became fascinated with hair science, product ingredients, styling techniques, and trying to understand why curls behave the way they do.
It's been about 8 months since I *finally* trimmed off the remaining damage and my hair improved dramatically. It's still a constant work-in-progress and I love tweaking my routine alongside my community.
3. What does the curly community NOT know about you? One fact social media doesn't know about you?
Perhaps that being an influencer is not my only job, and I still work full-time in corporate marketing at an agency. I totally nerd-out when it comes to data, analytics, social media strategy, and lead generation. I love both my jobs and wouldn't trade them for the world.

Also, some may not know that my husband would say I'm very stubborn and strong-willed, but I like to call it being determined :) 
4. Did you ever have any struggles embracing your natural hair? If yes, what were the challenges?
Yes, definitely! I struggle with embracing my thin, low-density curls. On one hand, I love that I have the unique characteristic of thin hair because so many of my followers have found me because of it and they have the same challenges. However on the other hand, it's hard not to not want thick, full, and voluminous hair at times.

I also battle frizz and humidity just like most of us curlies. Sometimes you just have to embrace the frizz but it's challenging when you're a perfectionist.
5. What has been the best/most empowering  part of your journey so far?
The most empowering part of my journey has been helping others "fix" their curly hair struggles. I'm always in my DMs problem-solving with my followers and chatting with them. Also, looking back at photos and videos to see how far my hair has come keeps me going. I recommend everyone track their progress so you can look back.
6. What are some of your goals for your platform? 
I'd love to expand my offerings through my website, genamarie.co, with premium content and consultations. I want to be able to help more one-on-one because it can be tough to answer all messages and adequately help people through a short DM.
7. What are your highlights/favorite moments of the community?
Some of my favorite moments have been traveling with other curly hair creators and getting to learn from them. It's actually because of a trip with a curly hair brand that I got inspired to fully dive into the curly hair journey after hearing everyone's stories.
8. How do you style your hair day-to-day?
Most days I'm working from home so I try to do as little as possible to my hair,, which is actually healthier to leave it be. I usually wash it about twice a week, and the weekend wash days when I'm filming are usually more in depth. I wash, condition, apply styling products and diffuse. A few days out of the week I will refresh when I need to look presentable for an on-camera meeting or filming.
9. What are your top hair care products you love?
Curlsmith, Bounce Curl, Innersense, Ouidad, Not Your Mother's, and TreLuxe are a few favorite brands that come to mind first. I'm always trying so many products for my content, so I don't have one set routine with specific products. Gel is probably the most important product in my routine, and one of favorite's is the Ouidad Advanced Climate Control, Stronger Hold gel. I also love Curlsmith's Styling Souffle or Flexi Jelly.
10. When did you first hear about the benefits of silk for hair?
When I first started learning about the "curly girl method" I learned the importance of protecting your curls at night. I first discovered silk pillowcases and can't live without mine. It's definitely an essential for anyone with textured hair. Curly girls have silk everything because we're always trying to avoid friction, frizz, and tangles. 
11. Do you incorporate natural mulberry silk items into your curly routine/kit?
If so, what kind of differences do you see after using them?
Yes, I use mulberry silk scrunchies quite often. I like how they don't snag or cause tension on my hair that is prone to breakage. They also don't crease my hair like a standard rubber-band hair tie would.
12. How do you keep your hair healthy?
Weekly deep conditioning treatments are a must. I haven't skipped a week in years! I also clarify pretty frequently to remove build-up and always follow up with a deep conditioner. I do bond-building treatments or use a protein-rich deep conditioner about once a month.
13. What are your goals for the rest of 2021?
I want to continue creating educational style videos and mix in more content to help viewers get to know me more. I also want to create more downloadable content on my website because my first Wash Day Guide was a hit.

14. If you had to give one piece of advice to your followers/community, what advice would you give them?
Stick with it! The "natural hair journey" is a long process that takes time. There are no quick fixes to "get rid of" damage. It has to be grown out gradually unless you get a significant haircut all at once. Know that when you still have damage lingering on your hair, it will be more troublesome and hard to manage. But with dedication and consistency, it will grow out and return to your natural curl pattern. Once your hair is fully healthy you will find it much easier to love your natural texture.