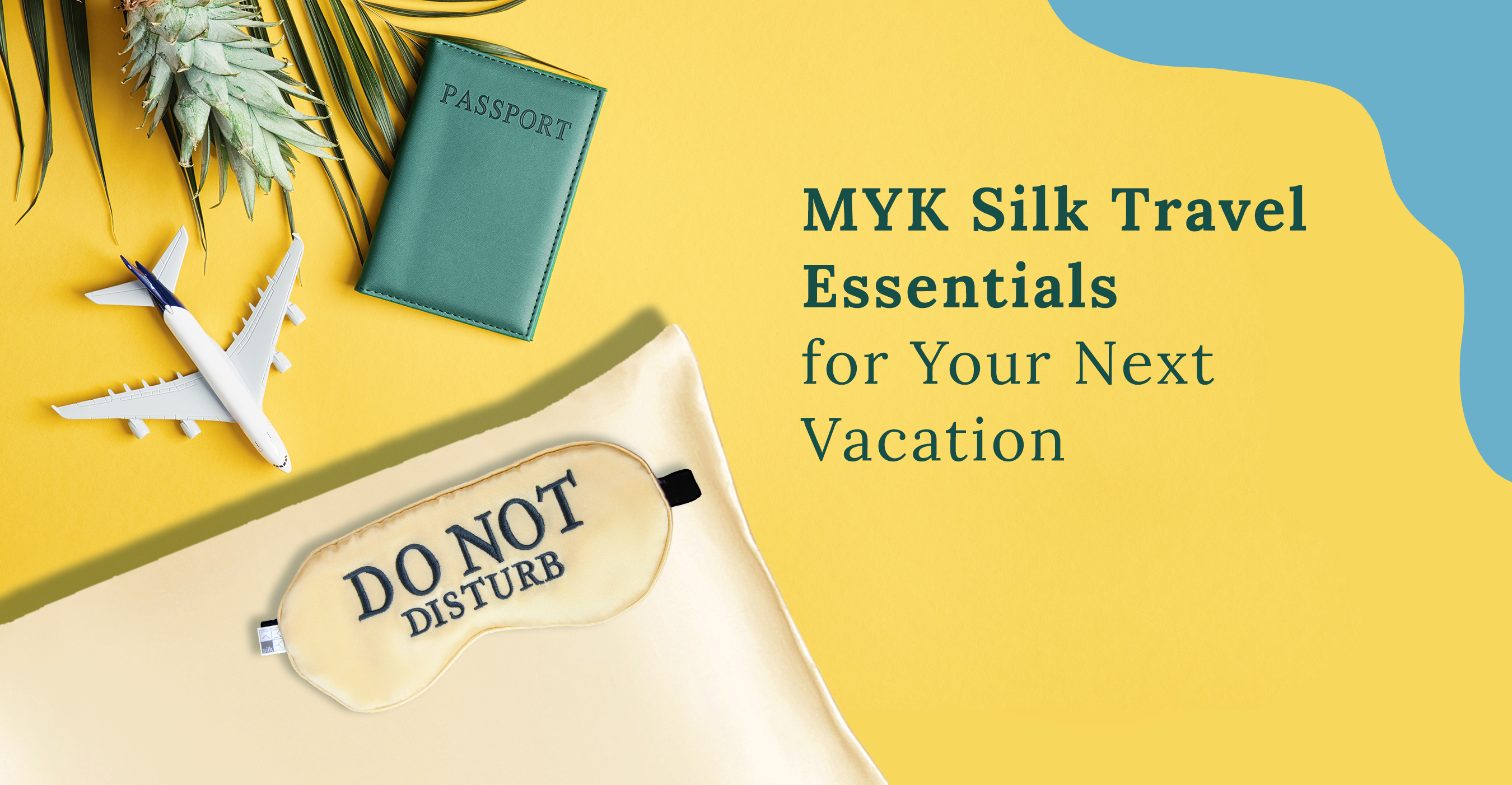 MYK Silk Travel Essentials For Your Next Vacation
Summer is in full swing and that means more fun travels! Make your next get-a-way and travel experience more comfortable with these travel essentials we think you should pack for your next destination. Keep reading below to see our selections of travel must-haves you need to include!
Eye Mask- It's already hard enough trying to get some sleep on flights, or if you're in a new space. Silk eye mask makes the perfect travel essential, use on flights to block out distractions to get some extra sleep. Just throw in your suitcase or bag and you're all set for better sleep on your next trip!
Silk Pillowcase- Who says you can't bring beauty sleep on the go? Upgrade your travel by packing a pillowcase with you! Whether you're traveling on a long flight or an extended stay in a hotel, silk pillowcases make the perfect travel essential.
Travel Pillow/ Neck Pillow- A comfortable neck pillow/travel pillow makes all the difference for extra comfort on your get-away. There's a ton of different kinds out there to choose from, from u-shape to memory foam. A good neck pillow makes all the difference  if you have a hard time falling asleep on the go.
Packing cubes- If you love staying organized and having all your things in one place, packing cubes are a must-have for quick and easy packing. Packing cubes come in a variety of sizes for all your things you need to pack for your trip.
Blanket- On long haul flights, blankets provided by the airlines can be quite uncomfortable. For extra comfort, bring your own blanket with you on your next trip. Pack it with you in your bag or carry-on for easy access to comfort
Noise canceling headphones- We all know long flights can get boring very fast, a nice pair of noise canceling headphones can help with just that. Block out all noise and distractions when you're watching a movie or listening to music. It'll help the flight go by faster as well if you're not distracted with all the noise around you 
Sheet mask- Who says you can't pamper yourself while in the air? Being thousands of feet in the air can really dry out your skin due to the change in climate.. Pack your favorite sheet mask with you to use on the plane, they're travel friendly as you can throw it into your bag without taking up space. Skincare while you travel is the key to keeping your skin hydrated
These travel essentials will bring you ultimate comfort on your next destination, let us know in the comments what essentials you bring with you on your vacation!