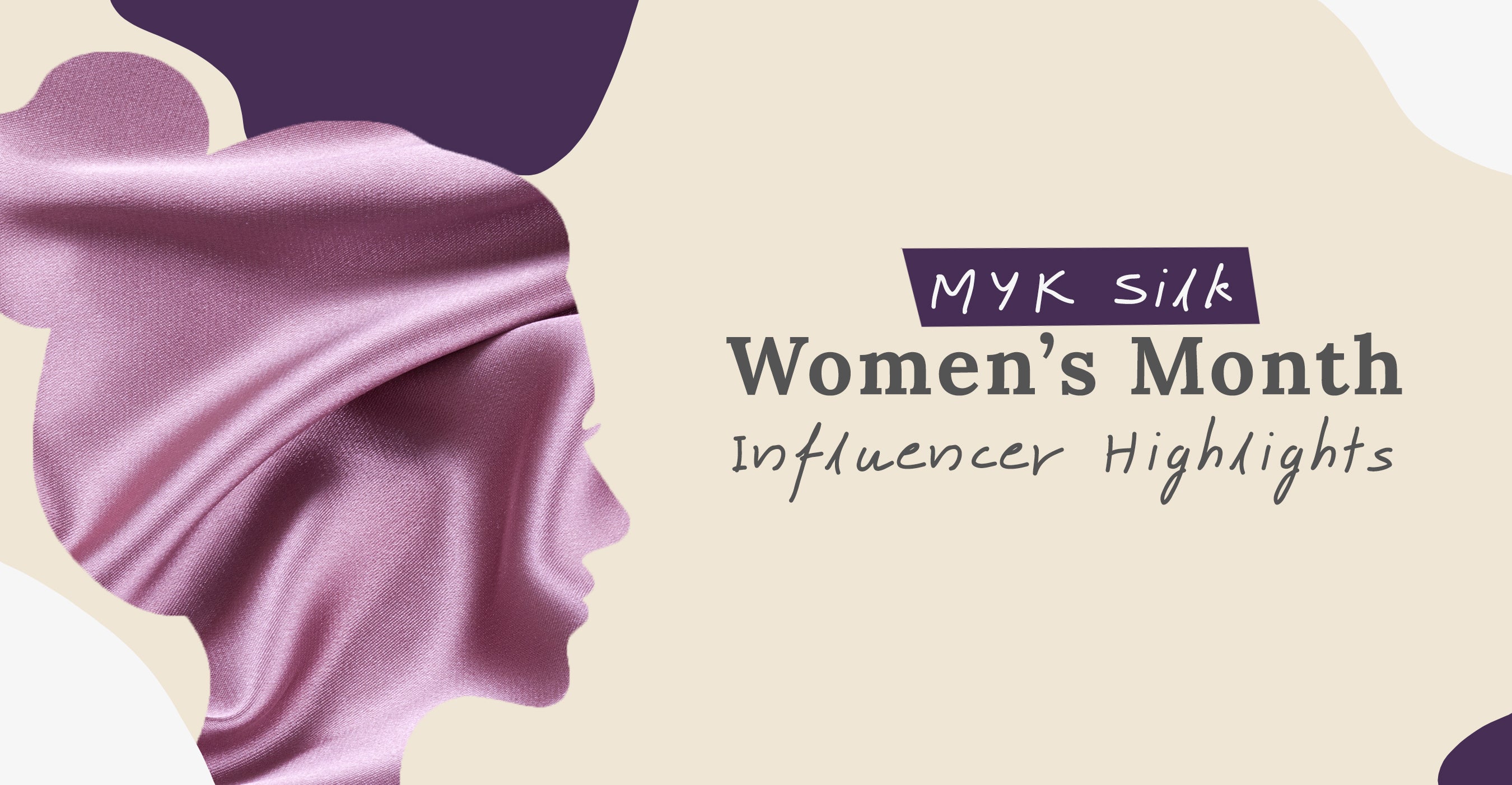 MYK Silk Women's Month Influencer Highlights
Here at MYK Silk, we want to reflect and celebrate all the achievements of the powerful women we've partnered with thus far! In honor of Women's Month, we want to acknowledge both Women's History Month and International Women's Day. Thank you to all the amazing, strong, fearless and empowering women who inspire us everyday. 
While there are countless female bosses, we would like to introduce and highlight a few influencers who are inspiring us. We support all the women out there who are going out of their way to create an opportunity for themselves and achieving anything they set their minds too, to all women out there who are doing their best to balance it all. 
 Mary @mary.bears
Mary is a fashion & beauty influencer, as well as the founder of @theluxe.digital; a social media management company. She focuses and shares her passion for feminine style, beauty and luxury through her social media
Mackenzie Dudzik @mackenziedudzik
Mackenzie Dudzik, or "Mack" as her social community calls her, is a travel & lifestyle influencer who fiercely encourages self love in all she does. Additionally, she is a businesswoman who coaches upcoming creators on how to be their most authentic selves as they launch their personal brands. Mack also founded theClick LA; a friendly space for creators to network and collaborate
Emmanuela Okon @ellahh
Emmanuela Okon is not only a style blogger with over 16K loyal followers, but she is also the creator & owner of  E's Element. E's Element is black-owned jewelry + limited edition athleisure wear company that began in July of 2020. She created E's Element because she wanted to give people easy & quick access to quality jewelry and athleisure wear
Traci Propst @tracipropst
Traci Propst is a home editing and style inspo influencer with over 30K followers! She is a certified life coach and published author of the book, Unapologetic. Traci inspires her followers to create beauty on the inside and out!
Mariela Polanco @xomarielap
Mariela is a biz babe + everything in between! Not only does she run a beauty & lifestyle IG, but also helps women launch their own brands. She is ALSO the founder of marfemme; a clothing line based in NYC 
Bonny Bunson @bonnybunson
Bonny Bunson is a fashion, beauty, travel and interiors influencer with over 49K followers on social media and is also a corporate attorney on the side
Patrice Nicole @patricenicolealways
Patrice Nicole is another superstar wife & mom who runs a style, beauty, lifestyle & foodie IG with close to 20K supporters! As seen in her IG bio, she is "Inspiring All Women to do the Best you can" as she strongly believes that while we all pursue the things that mean most to us, we have to always remember to be kind to ourselves on the journey"
Courtney @swavycurlycourtney
Courtney is a curly hair influencer with a big following in the curly hair community. She advocates for hair care, tips to take care of curly hair and so much more! Not only does she offer "curly courses" to her audience, but also has her own podcast! 
Yasmin Elzomor @yasminelzomor
Yasmin Elzomor is the "creative director of her own life" as she is a lifestyle influencer, mentor and accomplished relationship coach. You may have even seen her in a few magazines!
 Claudia Guzzo @claudiaaguzzo
Claudia is a beauty & style influencer with 15K followers! Additionally, she is a wife & mom who believes in spreading positivity through her social media
 Thank you again to ALL strong women out there and for all your accomplishments!