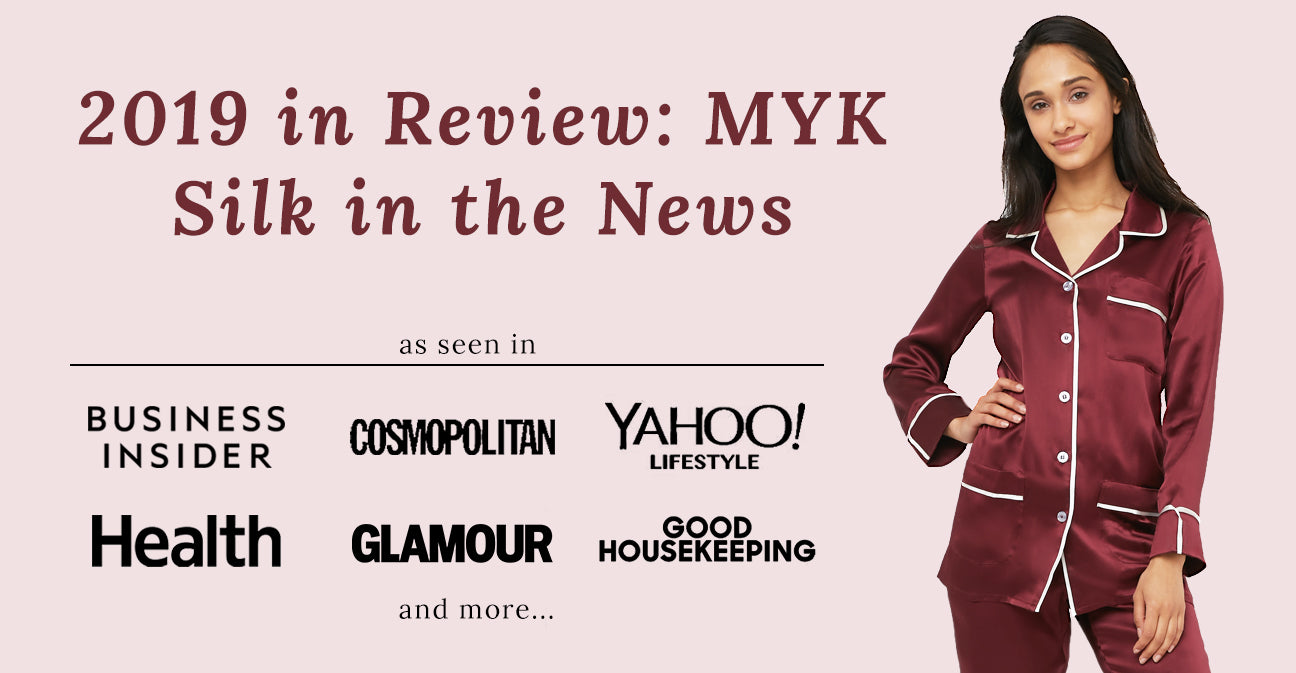 2019 in Review: MYK Silk in the News
MYK Silk started with a simple mission in late 2015: to be the brand that provides natural mulberry silk products at an affordable price not to the royalties or celebrities, but to everyday customers like you and us. As a young and growing brand marching into the new decade, the team wanted to take a moment to see where you might have seen us in the news and give a big thank you to everyone who has supported us and loves our products! Please check out our yearly round up of all the publication features below!
"A 100% silk case that rings in under $20? Gasp. This hypoallergenic, super-soft pillowcase comes in a variety of colors that are all machine washable, so you don't have to worry about a dry cleaning bill."
Health, By:
Dwyer Frame
 - January 10, 2019

"I always heard that silk pillowcases are good for your hair and skin, and since I've been using MYK's pure silk pillowcase, I can see a real difference in my hair's quality. I also love the cotton underside of this pillow because it prevents slippage, which isn't something you want from your pillow when you're sleeping!"
Business Insider, By: Mara Leighton - January 29, 2019
"Best Value: Myk Silk 25 (momme) Pillowcase You only sleep on one side of the pillowcase, so why should you have to pay for it on both? This genius design is made with a cotton underside to make it affordable, with a 100% silk fabric on top. It was strong, washed well in our Lab evaluations, and felt smooth to sleep on in consumer tests."
The Spruce, By:
Ayn-Monique Klahre
- February  22, 2019
"This silk pillowcase from MYK offers the best of both worlds. Not sure if you're ready to give up on cotton? Curious about silk but not ready for the investment?  With this pillowcase, you've got options and a very wallet-friendly price point."
Bravo TV, By: Patricia Cunningham - March 07, 2019
"I tried out a pair of these pajamas, and I loved them. They are officially my favorite pajamas for wearing in warmer weather. They're also excellent during the wintertime so long as you have a nice robe to bundle up in."
Business Insider, By: Michelle Ullman - April 19, 2019
"A luxuriously soft pillowcase. The outer portion has the smooth and cool texture that one would hope to expect out of silk. The inside portion of the pillowcase, cleverly enough, is a cotton weave that prevents the fabric from slipping." 
"This case is cotton on one side and 100% silk on the other, making it more affordable than double-sided options. You only sleep on one side so why pay for both?" 
Oprah Magazine, By: Laurren
Welch- July 23, 2019
"This pillowcase is inexpensive and ideal for anyone new to silk, but still packed with all of Silk's natural hair and skin benefits. MYK Silk has a variety of great still options to protect your curls overnight including silk sleep caps, scrunchies and even silky smooth sheets."
Naturally Curly, By: Michelle Thames - August 12, 2019
"You only sleep on one side of the pillowcase, so why should you have to pay for it on both? This genius design has a cotton underside to make it affordable, with a 100% silk fabric on top."
Good Housekeeping, By: Lexie Sachs - November 5, 2019
"I always layer on products and I can feel my cotton pillows soaking everything up. I already sleep with a headscarf on, so this 25-momme pillowcase is really helping my skin. I can actually feel the difference."
Glamour, By: Erin Parker - November 16, 2019
"An inexpensive yet luxe alternative if you're not sure you want to make the investment just yet."
Cosmopolitan, By:
Ruby Budd
emeyer &
Janell M.
Hickman - December 20, 2019
The MYK Silk team thanks you for all the support and we look forward to bringing more products with the natural benefits of mulberry silk to you in the future!