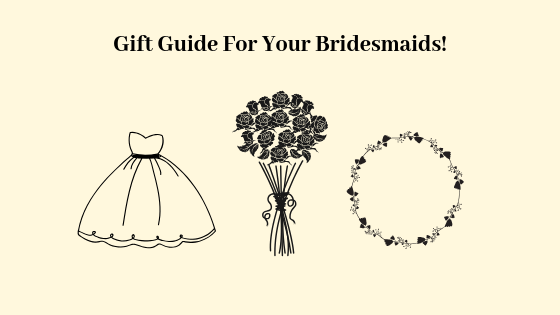 Gift Guide For Your Bridesmaids!
Written by Jane Kim
"A happy bridesmaid makes a happy bride."  -Alfred Lord Tennyson
The wedding bells are chiming and it's time to round your closest girlfriends to be right next to you on your special day! Of course, you also want to make them feel treasured since they'll be your right wing women until the day of. 
To help make the process a little easier for you, we've created a gift guide with our favorite silk products for your bridesmaids, so they can feel pampered and appreciated. Who doesn't want to lounge in a luxurious silk robe or comfortably fall asleep without having to worry about aging or hair breakage. Here are some products that are perfect for your future bridesmaids! 
MYK Silk Robe:                                                                 @brunettewithbounce                                                                                            

Why get them a plain  robe when you can get them something long lasting and lavish. These robes will be the perfect way to end your bridesmaids's days after long hours of dress fittings, helping you choose out decorations, and planning other events amidst your actual wedding. It's the perfect loungewear to bring anywhere you all choose to go. From being completely chemical free to being hypoallergenic, your bridesmaids will be waking up with a smile on their faces every day! Our robes also come gift ready in a beautiful package, so you have one less thing to worry about. 
We all sleep, but it comes down to how we sleep… our Mulberry silk pillowcases make sleeping a lot easier and better, so your bridesmaids never lose an ounce of beauty sleep when they're rejuvenating for an important day of fittings and tastings or the actual BIG day. Due to our pillowcases being made up of 100% Mulberry silk, they will naturally regulate according to the temperature so you bridesmaid's are always feeling comfortable and dreamy. On hot summer days, the pillow will have its cooling properties and on cold winter days, it'll retain the warmness. Sleeping just got that much better. 
MYK Silk Sleepwear:


You know what would be super cute? Matching pajamas for you and all your bridesmaids for that Insta-worthy picture. Our sleepwear isn't only cute for inside the bedroom, but are totally versatile enough for you to style it into a casual or dressy day outfit. Whether it be getting the Silk Camisole and Shorts Set that comes in 4 different colors, the Silk Mini Slip Dress, or the Silk Chemise, they all drape beautifully and are soft to the touch. They're also all so elegant in style that you and your bridesmaids will be looking and feeling like royalty. 

The second item your bridesmaids will love are our Silk Scrunchies. You can get our scrunchies in a box of 6 small ones or a box of 3 large ones. The best part? They come in 9 different styled bundles, so your bridesmaids can get creative on a daily basis of which one they want to get. These scrunchies are perfect for everyday or any other activity. Whether it be your daily run, yoga class, work meeting, or going out, they deliver benefits like no other while keeping everything in place.

If you're at the finish line of completing your bridesmaids baskets, but need that one last thing that will perfect everything, this is it. Our eye masks come in 9 different colors, so that means you get to choose whichever fits the theme of your wedding or your personal style. They have a velvet band which will allow your bridesmaids to rest peacefully without having to worry about a band digging into their head. These masks are created to block out hard lights in while securing any serums that were put on without absorbing thus preventing fine lines and wrinkles around the delicate eye are.

We hope our gift ideas will become classics that your bridesmaids will love for many years to come. After all, your girlfriends put in so much to make your wedding day extra special so there's no better way to show them your love and appreciation than by showering them with these special finds!