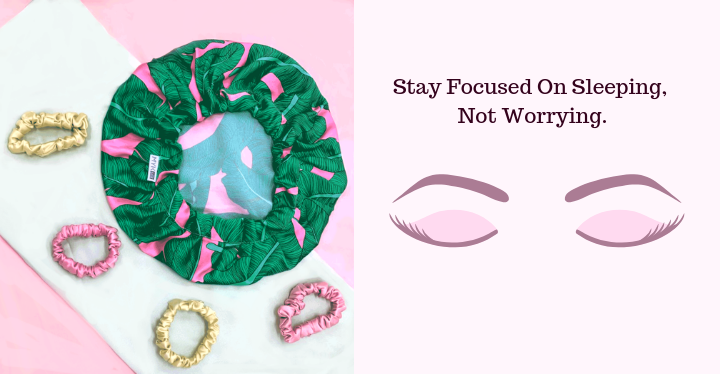 Stay Focused On Sleeping, Not Worrying
 Written by Jane Kim
Say hello to refreshing and easy mornings with MYK Silk's hair cap! These hair caps will keep your blowout and the moisture in place all through the night, so you could get a restful sleep without having to worry about the frizz or the dents. Not only are they made from 100% Mulberry Silk, but they also provide maximum comfort with the elasticized band that won't slip off your head or irritate it.
Let Us Take Care Of Your Worries:
Sleeping should be YOUR time to rest and rejuvenate. It shouldn't have to be so hard or worrisome, especially about your hair. With our new MYK Silk caps, all these worries will completely vanish as our silk caps will be working all night to keep your hair hydrated and frizz-free the next morning. Due to our Silk caps being created from 100% Pure Mulberry Silk, they will protect your hair from becoming dry from friction that's generated from your hair and your moisture absorbing pillows like cotton. It'll also keep in all your hair treatments, oils, and serums locked in place, so you won't need to worry about anything spilling during your comfortable sleep. Get yours today, so you can say goodbye to tangles and worries!
Ready To Go The Next Morning:
Not only does our Silk cap keep your hair healthy and nourished, it also keeps your hair do's the night before in place during the night. It helps retain the style and volume! That means you don't need to wake up earlier in the mornings sluggish to do your hair since you could do it the night before and sleep in. Furthermore, if you've gotten a blowout the day before, wear our caps so they look like you just stepped out of the salon in the mornings. The Silk cap will prolong your hairstyle overnight while you get to toss and turn as much as you want. Start your mornings feeling good about yourself and your hair! 
Your New Favorite Accessory: 
Are you ready to hear the best part? Our Silk caps can be used outside the bedroom too! It can be incorporated into your beauty routine and travel experiences. While you're doing your makeup, get your hair out of the way of your face with our cap at the same time keeping your hairstyle in place and ready once you're done. Additionally, Silk caps are going to be your favorite newest travel accessory! They will keep your hair luscious and moisturized when you're either high up in the air or sleeping in a hotel, so you can be looking your best at all times and anywhere in the world.




Our Silk caps come in 5 different colors, so buy one that fits your personality and start looking stylish while achieving your best hair looks!