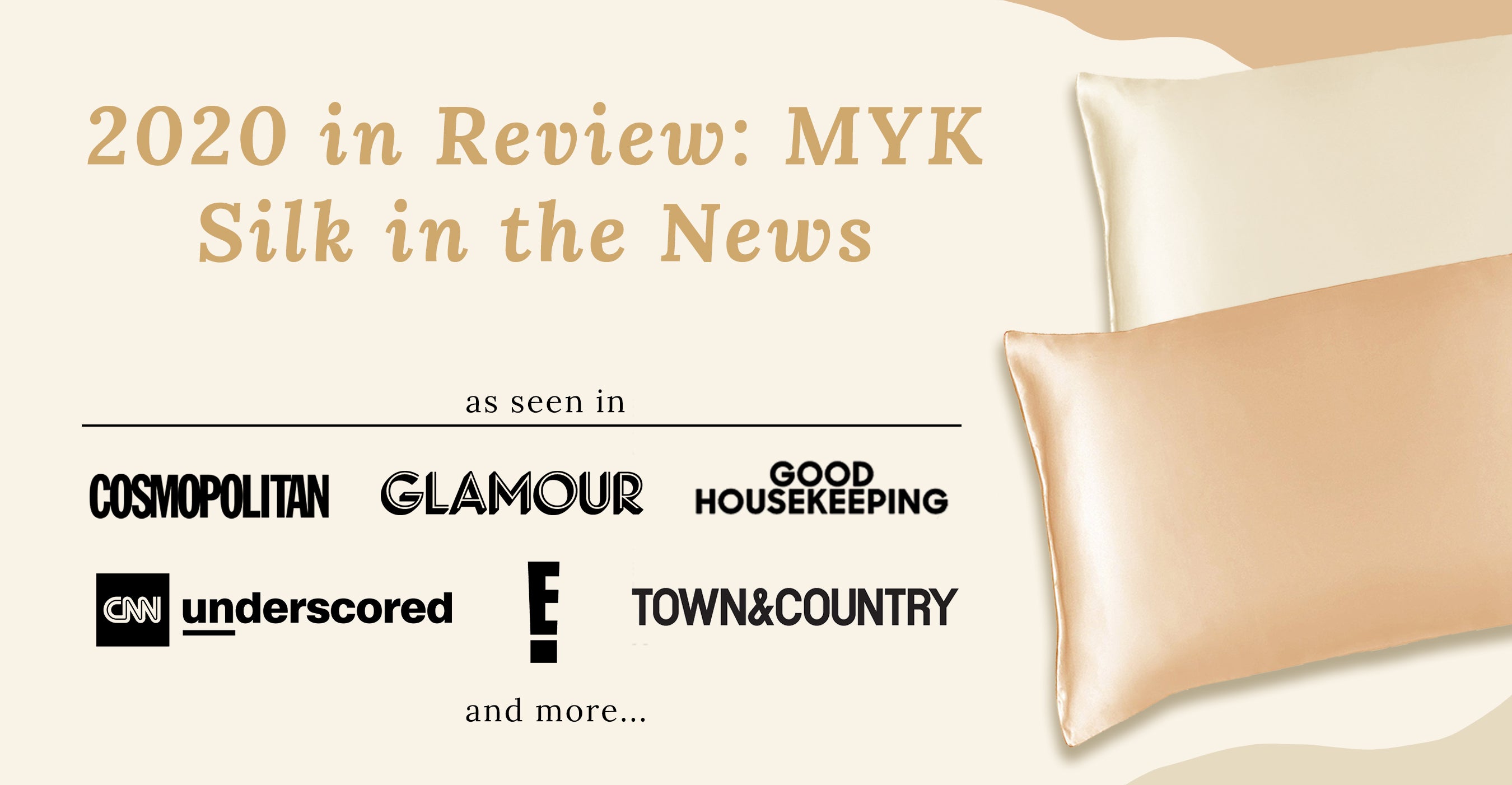 2020 In Review: MYK Silk In The News
With 2020 behind us, we are looking forward to a new year of growth. We started with a simple mission of bringing the highest quality of products at an affordable price. We continue to strive for that goal, and as a young brand we wanted to highlight where you might have seen us in the news. Thank you to everyone who has supported us! Read below to see the 2020 round-up of all the publications we have been featured in!
Best for Glowy Skin: MYK Natural Mulberry Silk Pillowcase
GLAMOUR, BY: ERIN PARKER  - MARCH 16, 2020
"I can actually feel the difference. Yes, my head slips and slides on the pillow, but my face no longer feels dry or dehydrated when I wake up. It's perfect!" 

—Khaliha Hawkins, producer
E! ONLINE, BY EOL STAFF- MAY 4, 2020
"Word is that sleeping on a silk pillowcase is better for your skin and hair. Let mum test the theory with this 100% mulberry silk pillowcase available in seven different colors."
MBG LIFESTYLE, BY ALEXANDRA ELGER- MAY 16, 2020
"The major downside to silk pillowcases is that they are far more expensive than their counterparts. This option uses silk on only one side in order to keep the cost down. But it's still good quality: They use natural, 100% mulberry silk—and skip questionable dyes and tested for allergens"
TOWN & COUNTRY, BY LUCIA TONELLI- JULY 2, 2020
"For those in search of the best bang for your buck, this pillowcase features one side of pure mulberry silk for sleeping— the other is made with cotton, to be kind to your wallet."
"This case is cotton on one side and 100% silk on the other, making it more affordable than double-sided options. (You only sleep on one side so why pay for both?) It comes in 11 hues and ranges in size from Toddler to King."
COSMOPOLITAN, BY RUBY BUDDEMEYER & JANELL M. HICKMAN- AUGUST 3, 2020
"This case is 100 percent mulberry silk, so I wake up with frizz-free and bedhead-free curls, even when I go to bed with my hair wet," 

—Paige Teixeira, Hairstylist
CNN UNDERSCORED, BY CHRISTINA VERCELLETTO- AUGUST 12, 2020
"I put these in my washing machine (gentle cycle, no fragrance/sensitive detergent, cold) and everything holds up well. These are really great quality, and very  soft,"

—Reviewer

GOODHOUSEKEEPING, BY LEXIE SACHS- NOVEMBER 24. 2020
"You only sleep on one side of the pillowcase, so why should you have to pay for it on both? This genius design has a cotton underside to make it affordable, with a 100% silk fabric on top. It's only 19 momme so it may feel slightly thinner, but it's a steal at under $20. Plus, the brand sells 22 and 25momme variations for a higher price."
Thank you for your support, we look forward to continue bringing you the highest quality Mulberry Silk products and services at an affordable price! 
Love, MYK Silk Team