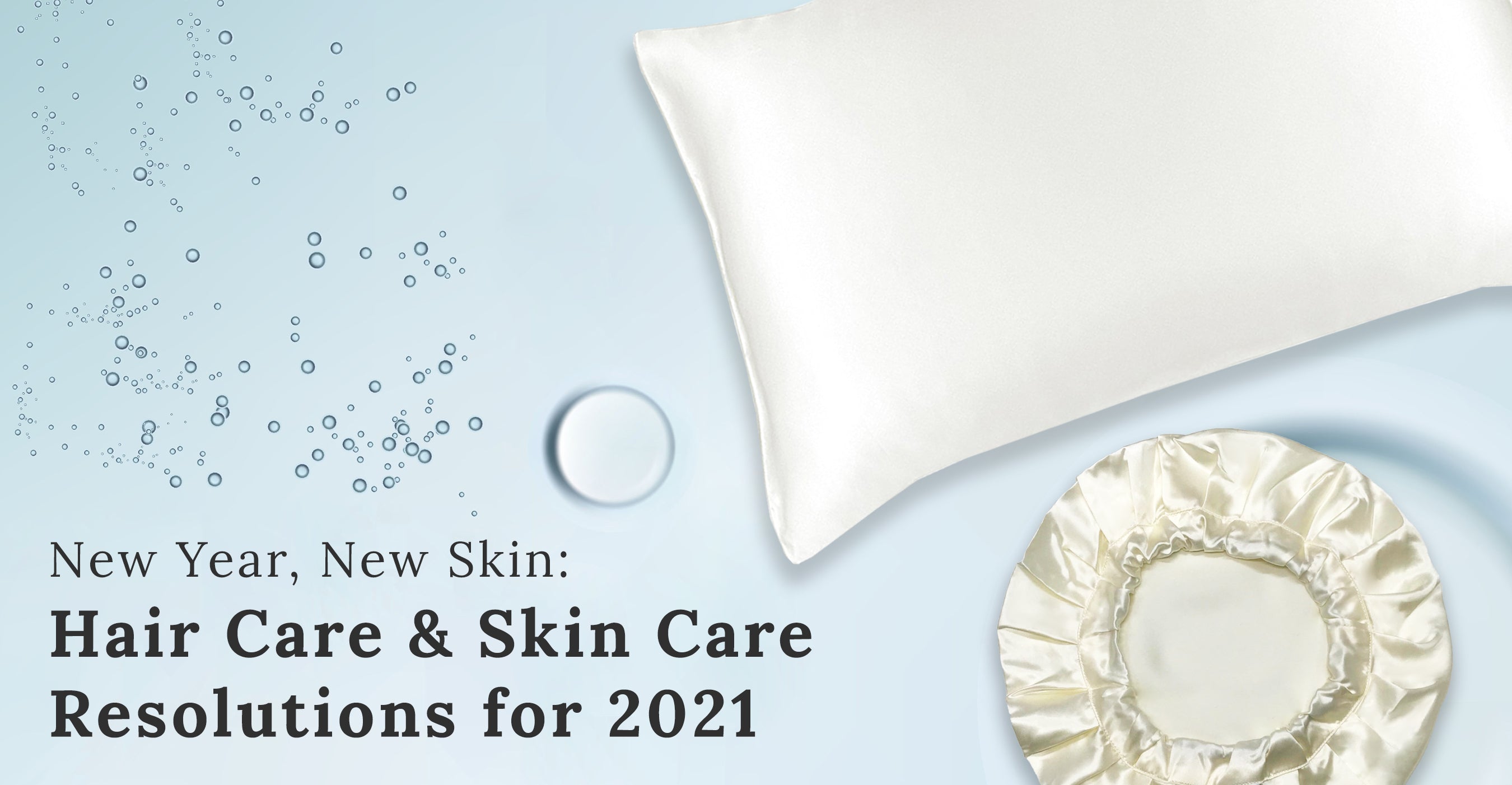 New Year, New Skin: Hair Care & Skin Care Resolutions for 2021
The new year is all about starting resolutions of what you might want to achieve for the year, who says you can't have resolutions for your hair & skin? Indulge in self care and start your routine off right! 2021 might look a little different, with more time spent at home that means you can take the time to pamper yourself. From getting cozy in your pajamas to setting a self-care routine, read on below to get ideas on New Year resolutions you can set!
Remember To Take Your Make-Up Off Every Night
Sleeping with your make-up on can cause clogged pores from the dirt and oils on your face mixed with your make-up. Remember to take off your make-up before you go to bed don't make it a bad habit! Sleeping with clean skin ensures that your skin will be able to breath and won't break out. 
Invest In Your Hair & Skin
You spend your whole life sleeping so why not invest in something you sleep on every night? A silk pillowcase! MYK Silk pillowcases are  hypoallergenic, breathable, and will keep your skin hydrated. Silk does not absorb your skin's moisture or skincare products so you can wake up with radiant and hydrated skin! Sleeping on silk also means waking up with no dents and frizz in your hair. With other materials such as cotton, it's much more abrasive than silk. Silk is smoother so there is no friction with your hair and skin and will keep your hair nourished and lock in your hair's natural moisture while you sleep!
Keep Your Skin Hydrated
The most important tip for healthy hair & skin is drink lots of water! Drinking enough water will help flush out toxins in your body giving you healthier and radiant skin. Your hair will also look less dull, more bouncy, and shiny. Make it a goal everyday to drink water, weather that's always having  water near you or setting alarms as a reminder, it's a natural and cheaper alternative to great skin!
Understand Your Skin & Skincare Products
It's important to understand what you're putting on your skin, what are the benefits of the products and will it actually help your skin? Making sure to have healthy skincare habits is a great resolution for the new year! Start off by seeing if the ingredients are good for your skin, everyone's skin is different and certain ingredients will react differently. If you have drier skin, go for a heavier moisturizer, if you have more oil or combination skin, check out a lighter moisturizer or gel consistency. And if your skin is more sensitive, go for a more natural list of ingredients, less is always more. Understanding the function of your skincare products will not only make your routine easier, it will also make your skin happier too!
Skip Out On The Heat
Make it a habit in 2021 to limit your hair's exposure to heat! Now that we're all staying home it might be bit easier to skip the heat. There are lots of heatless ways to style your hair! From braids, to ponytails, heatless curls with rollers and much more. Your hair will be able to breath and you won't dry it out from the heat, your hair will thank you!
We hope some of these tips will help you take your skin and hair care resolutions to the next level in 2021! We wish you a happy, and healthy new year filled with healthy hair & skin!