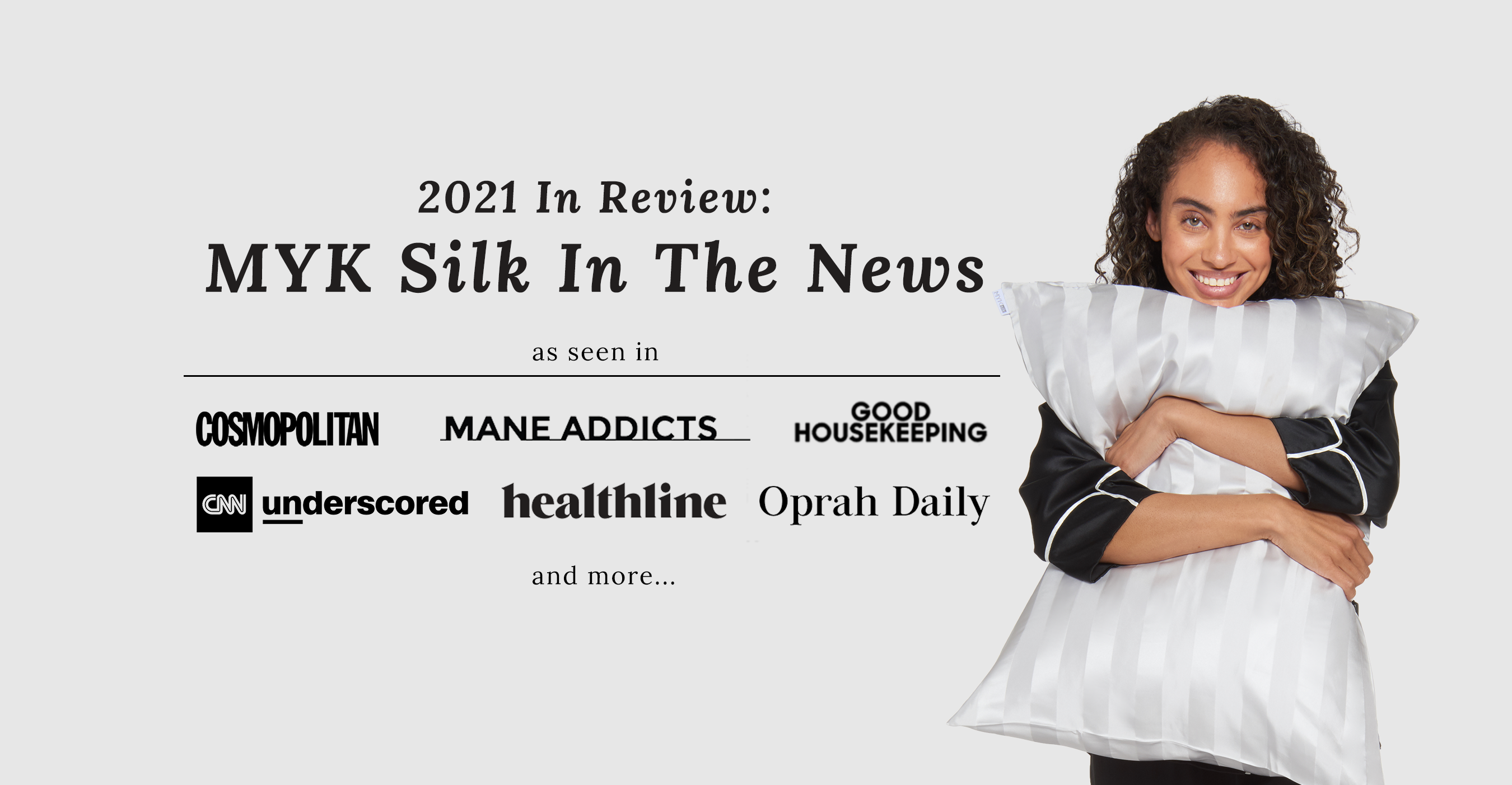 2021 In Review: MYK Silk in the News
Happy New Year! Thank you to everyone for all your support this past year. We truly appreciate our MYK Silk family! We started our simple mission of wanting to provide and bring the highest of quality to our products at an affordable price so everyone can experience luxury. We continue to strive for the goal everyday. In the past year we rounded-up all the Top 10 mentions we have been featured in and we are honored. Read below to see all that we have been in!
By Lauren Balsamo & Ruby Buddemeyer -November 15, 2021
"This case is 100 percent mulberry silk, so I wake up with frizz-free and bedhead-free curls, even when I go to bed with my hair wet," 

- Paige Teixeira Hairstylist of Minx Salon & Spa in Loomis, California
By CNN Underscored Staff - December 15, 2021
"Best affordable silk pillowcase: MYK Silk Natural Silk Pillowcase with Cotton Underside. The MYK Silk Natural Silk Pillowcase, featuring lovely silk on one side and white cotton on the other, offered a good fit, restful sleep and for about half the price of the Fishers Finery option."
By: Lexie Sachs December 9, 2021
"You only sleep on one side of the pillowcase, so why should you have to pay for it on both? This genius design has a cotton underside to make it affordable, with a 100% silk fabric on top."
By Dahvi Shira - December 3, 2021
"Scrunchies have been back in for a while, but the trend has absolutely exploded on TikTok. They're a fun, easy way to elevate an otherwise ordinary look (or a bare wrist). If you're hunting for something sleek, solid-colored and practical, we recommend MykSilk."
By Melissa Goldberg - December 8, 2021
"This case is cotton on one side and 100 percent silk on the other, making it more affordable than double-sided options. (You only sleep on one side, so why pay for both?) It comes in 11 hues and ranges in size from toddler to king."
By Lacy Muinos - August 19 2021
"This pillowcase is made with 100 percent mulberry silk. At 19 momme, it's not as thick as others, but it's a considerable starter option since it's more affordable and accessible. For those with sensitive skin, the MYK silk pillowcases are OEKO-TEX Standard 100 certified, which means the fabric is free of harmful chemicals."
By: Lucia Tonelli & Meg Donohue - November 23, 2021
"For those in search of the best bang for your buck, this pillowcase features one side of pure mulberry silk for sleeping— the other is made with cotton, to be kind to your wallet."
By: Michelle Vitiello - November 30,2021
"Give a self-care gift to your mom, sister or friend and send a luxurious silk pillowcase. Not only is it comfortable and smooth on the face, it has anti-aging, hair and skin moisturizing properties on both sides. The MYK Silk Pillow Case comes in eight different colors including classic beige, ivory and gray to match your sheet set—or you can opt for a fun pop of pink!"
By: Elizabeth Heath - October 12, 2021
"With a 25-momme density, this ultra-smooth silk pillowcase from MYK Silk will help all hair types tame the frizz. And the smoothness of these pillowcases helps fight tangles, even for people with long hair or those prone to tossing and turning. Since they're hypoallergenic and free of chemicals and dyes, dermatologists and beauty experts recommend them, and at $45, they've also got a smooth price."
By: Sarah Riccio - June 11, 2021
"Let me start by saying that sleepers on a budget are bound to be most compatible with this pillowcase, as its price ranges from $18-$20. Make no mistake — the mulberry silk portion of this pillowcase is luxuriously smooth, durable, and features a high momme of 19.  Sleepers looking to catch Zzz's on high quality silk without breaking the bank should definitely give this pillowcase a try."
Mane Addicts
By Dahvi Shira - February 19, 2021
"While we all love to luxe-up our bedding with a swanky silk pillowcase, the soft material also does wonders for the hair. But wouldn't you know, not all silk pillowcases are equal—which means we're on the hunt to find the best silk pillowcases out there."
Real Simple
By: Melanie Rud - March 3, 2021
"Breaking news: Not all types of silk are created equal. Mulberry silk is widely considered to be the highest quality available—making the affordable price tag on this option all the more impressive. Free of chemicals and dyes, it's another great choice for those with sensitive skin, and is also machine washable, always an added plus."
Inside Hook
By: Lee Cutlip - January 26, 2021 
"If the woman in your life doesn't already own a silk pillowcase, chances are she wants one. Silk pillowcases, lauded for their hair and skincare benefits, were among the hottest Christmas gifts of 2020, so if your lady didn't find one under the tree this year, it's probably on her wishlist. While bed linens might not sound like a particularly romantic gift, silk pillowcases are elegant and actually pretty intimate if you think about it — she's literally bringing your gift to bed with her every night."
Well + Good
By: Danielle Broadway - February 14, 2021
"Created with soft and refined mulberry silk, these sleeping caps, pajamas, bedding, and even scrunchies are the sheer definition of glamorous. With everyone staying home more often during the pandemic, these silk products are perfect to make staying at home feel like a visit to a 5-star spa."
Thank you so much for all your support, we look forward to continue bringing you the highest quality silk products and services.
Love,
MYK Silk Team