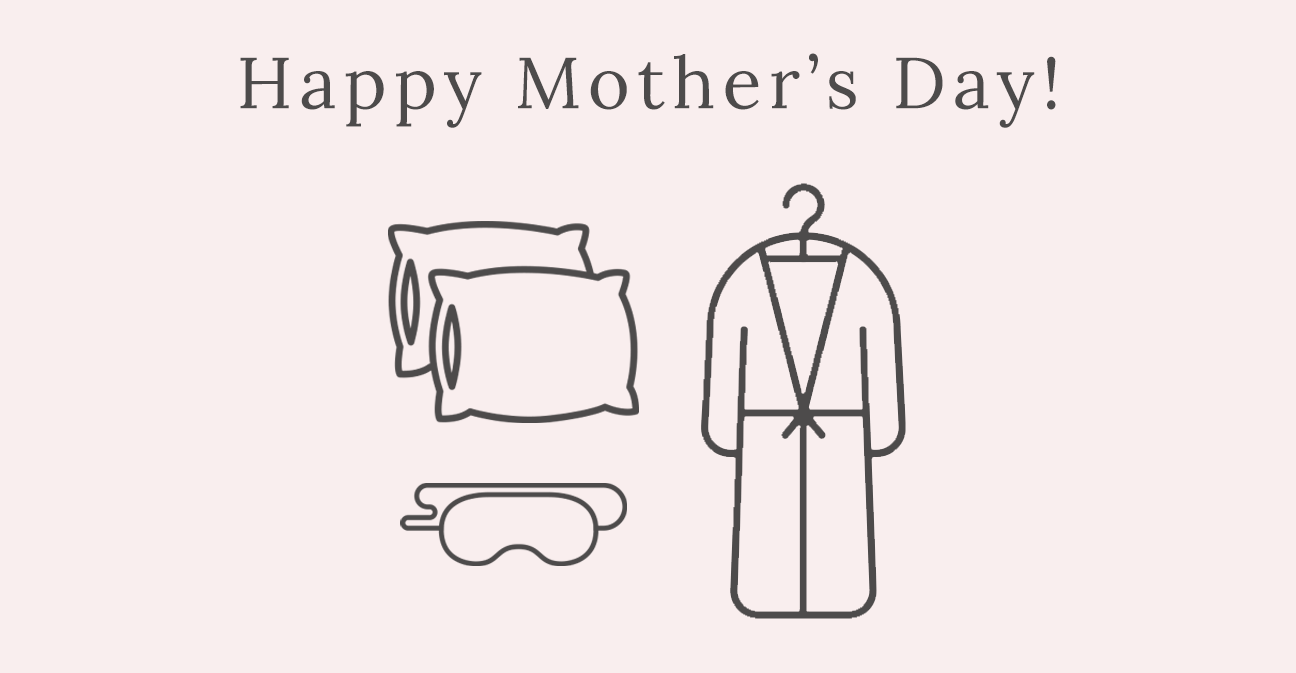 Mother's Day Gift Guide 2019
With Mother's Day 2019 fast approaching on May 12, the pressure is on to find the most important woman in your life the perfect present. Mom deserves the very best so treat her to one or all of these thoughtful gifts we know that she will enjoy day after day. Although there's no way we can ever fully thank our mothers for everything they do for us, Mother's Day is always the best time to surprise her with something extra special while bringing a smile to her face.
We hope our ultimate gift guide helps you find just the right way to say "I Love You", whether you're shopping for a new mom, grandma, your own mom, mother in law, the on-the-go mom or all of them!
Forget the chocolates, scented candles, perfumes, and instead give the woman who does it all and more something she can enjoy and comfortably relax in. If you want to give mom the gift of pure luxury, we've got you covered with our softest, silkiest, most lounge-worthy robe on her special day. The MYK Silk Robe is woven from the most buttery and softest fabric ensuring she will get the ultimate "at-home" spa experience. Every robe is crafted to perfection featuring smooth and clean lines all while being hypoallergenic, chemical free and dye free. Pair our Silk Robe with a set of fluffy slippers to pamper the woman who deserves it most!  So go on and spoil her with this stylish and luxurious treat she'll absolutely adore!
All moms deserve some beauty sleep, and thanks to our customer favorite and consistent best-seller, she can get the best night sleep of her life. Along with being super soft to the touch, our Luxury MYK Silk Pillowcase fights to reduce facial wrinkles ,fine lines, and sleep creases all while locking in the moisture on your skin. Made with exquisite craftsmanship, this 25 Momme Silk Pillowcase is part of our luxury collection ensuring you have the dreamiest sleep. Silk is a naturally smooth and supple fabric that not only is beneficial to the skin but also works wonders on your hair. Our little silk miracle workers are also known to create less friction meaning her hair will gently glide over the surface consequently prolonging her hair style. For an extra special surprise this Mother's Day, indulge mom by pairing our Silk Pillowcase with a complete skincare set!
The MYK Silk Beauty Eye Mask is a must for new moms who haven't been getting as much shut - eye as they used to. There is no greater gift than a peaceful and quiet night's rest making this little luxury an industry favorite in the beauty world. This comforting sleep mask checks all the boxes, including promoting longer slumbers while protecting and fighting signs of aging around the delicate eye area. Our Beauty Eye Mask is crafted to ensure that all light is blocked out with a gentle adjustable elastic made to fit anyone. This perfect little accessory will become a favorite travel companion for the on-the -go or beauty-obsessed mom that will always leave her feeling extra fancy on even the longest of flights or a day full or errands. Pair our eye mask with a night's stay at a luxury hotel & spa for the ultimate treat fit for a queen.
If you truly want to get her the gift of her dreams, an MYK Silk Gift Card is the way to go. Whether she's looking for a new sleeping pillow, a set of sheets, the perfect robe, or even a cozy pajama set you'll be giving her the gift of a good night's sleep.
This year, on May 12, we hope our gift ideas will become a mother's day classic that will be used by those special women in your life for years to come. After all moms deserve only the best, especially on Mother's Day.
Happy Mother's Day!