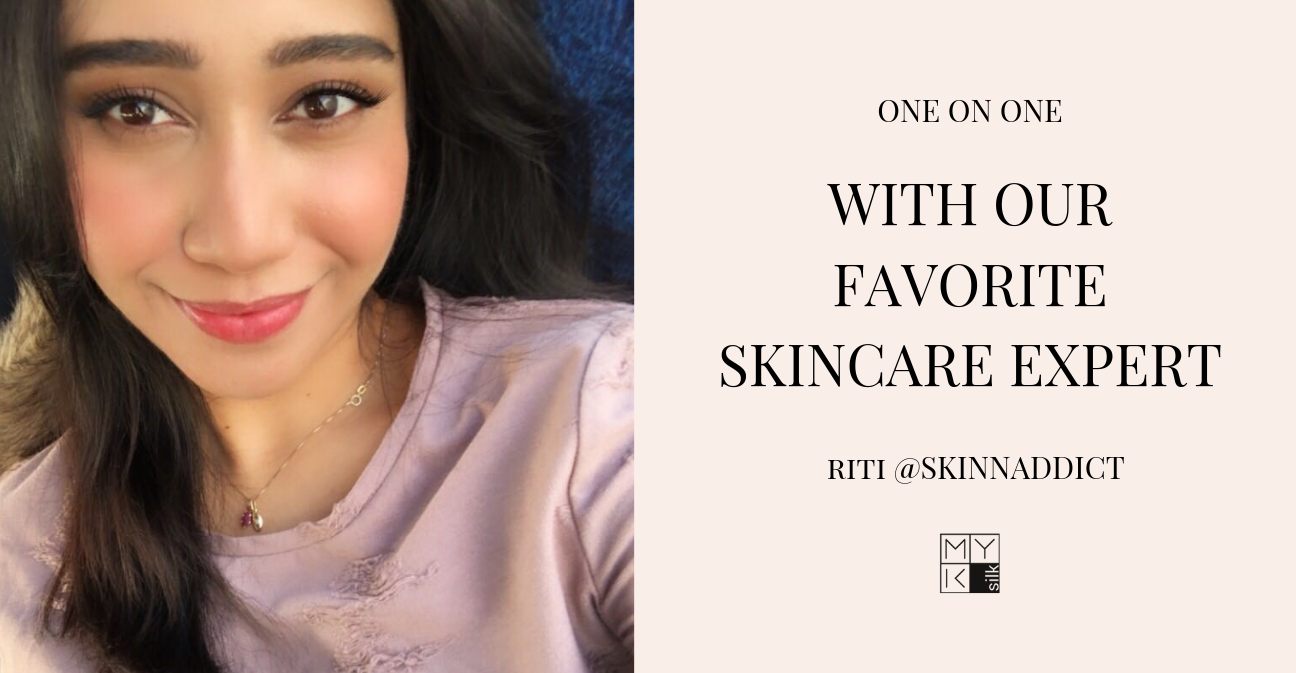 One on One with Skincare Expert: Riti Pal
This summer season, we're hitting refresh and looking for new ways to take care of our skin. To get in the spirit, we had a Q&A with Riti Pal, also known as @skinnaddict on Instagram. One of our favorite skincare influencers based in Toronto, Riti sits down to talk to the MYK Silk Team to discuss the latest skincare trends, her favorite products and answers our most pressing skincare concerns. From the benefits of incorporating silk into her skincare regime, to tips on how she keeps her skin looking great, Riti Pal tells all.
Tell us when you started your skincare journey and the reason you started.
I started on my skincare journey when I was 20. Before this, I washed my face with my body soap, didn't wear sunblock or any kind of moisturizer. However, towards the end of my 20s my skin started to break out and my face was covered in hormonal acne. I tried everything other than accutane but nothing worked. Then I took it upon myself to clear up my skin using natural products. That was when I started to look more into skincare myself, in search for the right natural skincare products that would work for me.
What does skincare mean to you?
Skincare to me selfcare. Skin is an organ and it deals with a lot of environmental, external and internal stress so it deserves some extra tlc. I have one body, and I intend to take very good care of it.
What is your skin type? What certain practices/products do you use to combat your skin type?
I have combination normal skin, but I started out with combination oily skin. My skin is drier on my cheeks and I get dry patches in certain areas, however my t-zone is oily. I found out that the sebum production and the dry patches on my skin get a lot worse when my skin is dehydrated. I make sure to drink 2-2.5L of water every day and stay away from most sugary, fried and salty foods (like fries and chips).
What have been some of your favorite staple products in your current beauty routine?
My favorite staple beauty product has been the SK-II Facial Treatment Essence. I have been using it since 2013 and love it. Another one of my absolute favorite products is the Fresh Black Tea Age Delay Eye Cream, it's one of the very best at what it does and I have yet to find one that is better.
When did you hear about the benefits of silk for skin?
I first heard about the benefits of silk for skin when I started to look into the brand Tatcha. This was around 2015 or so.
What was your perception of silk in the realm of the beauty industry? What were your reservations, if any about incorporating silk into your skincare routine?
To me silk has always been something that is super luxurious so incorporating it into my skincare/beauty routine seemed really intriguing. I had also read that silk was a major player in several ancient oriental beauty remedies, so I was excited to see its reappearance in the modern beauty industry. The silk cream by Tatcha and MYK Silk's eye masks were my first silk items that I incorporated into my skincare routine and was very excited to do so.
How long have you been using silk products in your skincare routine? What changes have you seen over time?
I have been using silk products in my skincare routine for over a year now. I definitely have. I feel that with the silk pillowcase- I wake up with less frizzy and smoother hair, my hair has less tangles and looks a lot shinier than it does when I sleep on regular cotton pillow cases. My skin also creases less since silk is a lot gentler on the skin and I find that my pillowcase doesn't soak up all my skincare.
How has your perception of silk changed after trying out our products?
Not at all, I still feel that silk is extremely luxurious and as are your products. They feel amazing on the skin and I don't think I will ever switch back to regular pillowcases and eye masks. Your products are beautifully made, and your prices are amazing.
Would you recommend silk to other skincare gurus and why?
I absolutely will! It's an experience and once you try it you won't go back. You just wake up with great hair every day, that's my favorite part.
What do you have in the works for your Instagram content?
Currently I am exploring anti-aging and brightening products. I will be away on archaeology for a few months this summer and I am hoping to maintain my skin while I am gone. I will of course be travelling with my silk eye mask and pillowcase ( I always travel with my own pillowcases now). I will be documenting my travels and posting updates on my skin is doing while I am gone!
Riti Pal touches upon some great points like the importance of using natural products to keep your skin looking young. Along with Tatcha's eye creams, she loves the benefits of her MYK Silk Pillowcase and Beauty Eye Mask as ways to keep her skin's health in good shape. For more advice and information on skincare and beauty content, follow Riti at @skinnaddict!