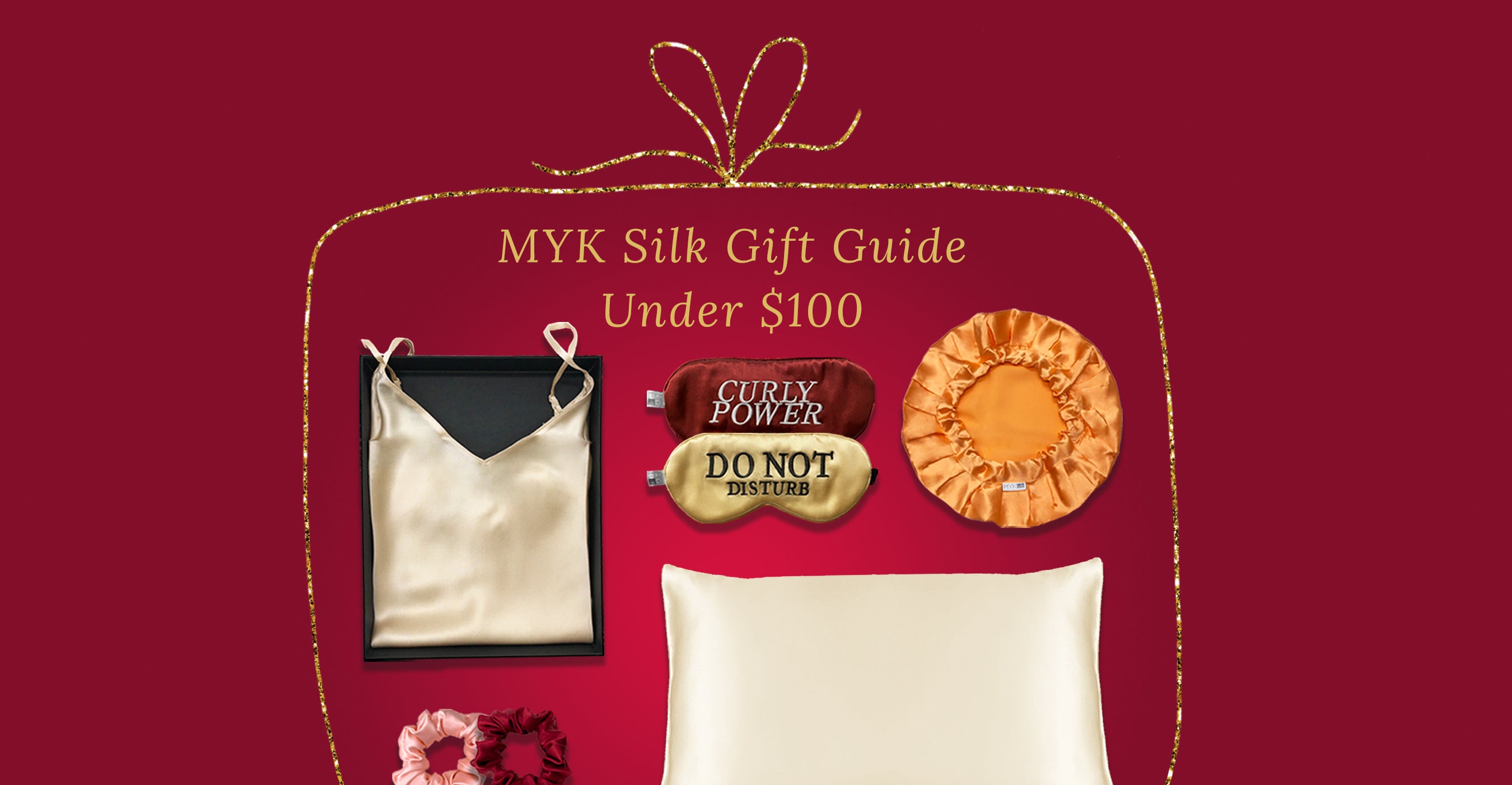 MYK Silk Gift Guide Under $100
It's December and that means the holidays are quickly approaching! Gift the gift of luxury without breaking your bank. Our gift guide is perfect for all comfort and beauty lovers! Shop our selections of best silk gifts under $100 for that special someone this holiday season, they'll be sure to feel luxurious. Happy holiday shopping!
Our silk eye mask makes the best stocking stuffers and gift for a great night of sleep. So smooth, soft, and luxurious, the beauty silk eye mask will block out all light ensuring you get undisturbed sleep. MYK beauty silk eye masks are now available embroidered with 10 new designs to choose from! From "zzzz", "Do not disturb", to "Curly power", and lots more!
Our most beloved silk pillowcase will be sure to wow everyone. With lots of beneficial properties that's great for your hair and skin, what's not to love? Perfect for silk lovers or anyone that's new to using silk. Available in a wide range of colors that will match your bedding! 
A hair and beauty essential! Designed to be gentle for your hair and won't cause any creases or breakage, it's the perfect gift for anyone. It's available in a large and small pack with tons of fun colors!
A perfect gift for anyone looking to say goodbye to dents, frizz, and hair breakage. Our sleeping cap is a must have night time routine essential that keeps your hair strong, frizz-free and luxurious while you sleep! 
Simple yet luxurious, this set is versatile, great for casually lounging in style and comfort, and even makes a perfect outfit for warm days. Don't want the 2 piece? Check out our silk camisole, it's easy to pair with any outfit, dress it up for the daytime or wear it to sleep.  It is gift ready and comes in a high quality box that is perfect for gifting!
Classic Silk Lounge Boxer Shorts
So comfy you won't want to take it off! It's perfect to wear any time of year, ultra breathable, and will have you feeling so luxurious. Available in four classic colors; navy blue, french grey, night black, and charcoal grey.
We hope this gift guide sparks an idea of what you can buy this holiday season for that special someone in your life! Show them your appreciation with a bit of luxuriousness. Happy Holidays from the MYK Silk team!