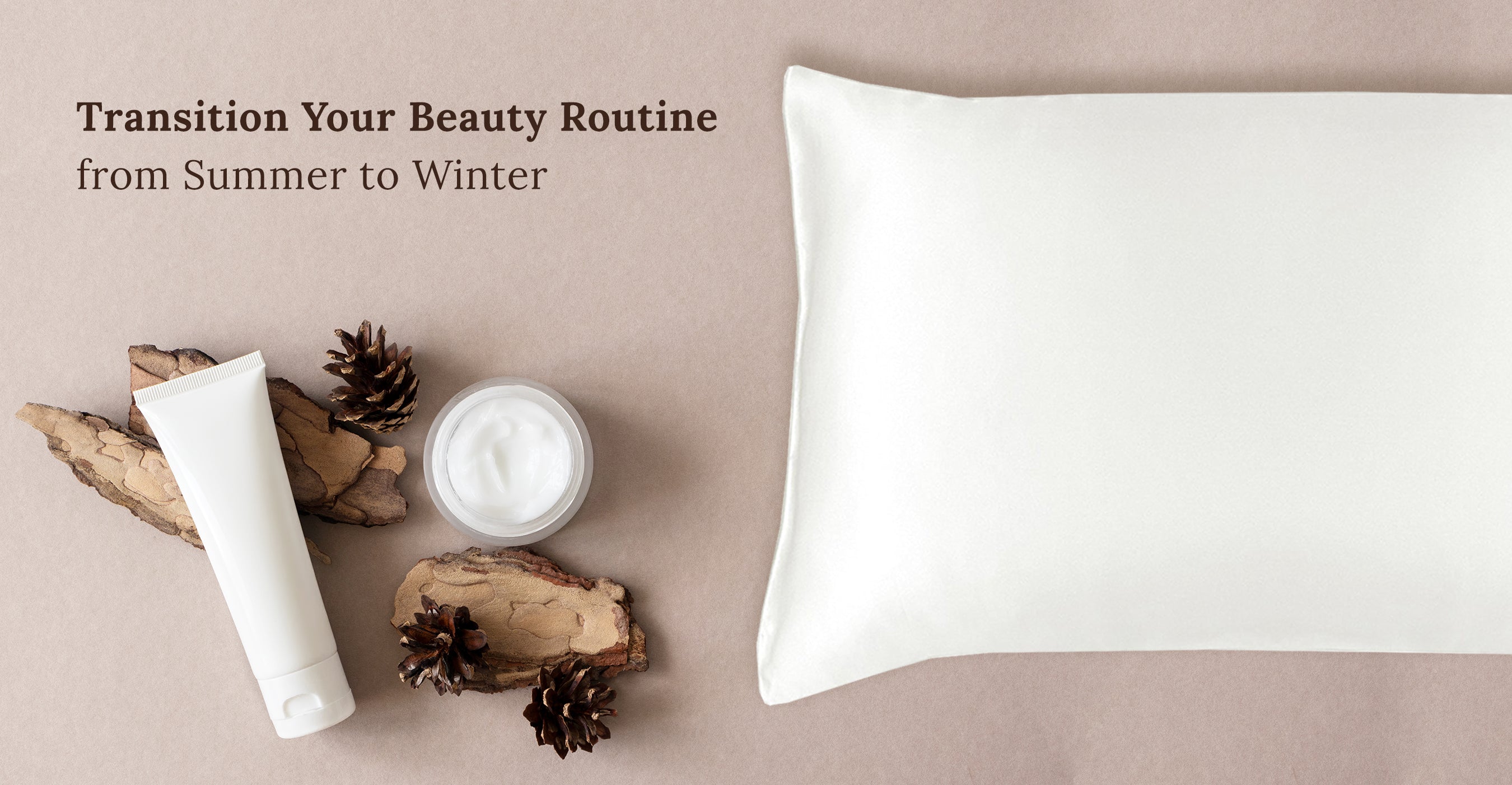 Transition Your Beauty Routine from Summer to Winter
If you live in a place where you experience winter, you know that the transition to colder weather is tough on your hair and skin for a number of reasons. The effects are drier skin, more frizzy and lack of smooth and shiny hair.
Hydration is the key to keeping your hair and skin healthy during the harsh cold months. Minimize the effects of harsh weather on your skin by switching to heavier moisturizers to quench your skin or even switching out your pillowcase. Read on to see how you can seamlessly transition your beauty routine to prepare for the seasonal weathers!
Haircare 
Pillowcase: Keep your hair and skin radiant all year long by switching out your cotton pillowcase to a silk one. Colder weather means drier, flakier skin, switching  to silk will help retain your natural moisture, won't cause hair breakage and it won't absorb your skincare products. This will help your hair and skin stay more hydrated. Other synthetic fabrics such as flannel, wool, satin, and cotton are not as breathable, making your skin and hair even drier.
Hair mask:  Dry, frizzy, winter hair is the worst. A nourishing treatment will be your hair's best friend during this time. Commit to a weekly deep conditioning hair mask to help bring back lost moisture in your hair. In less than 20 minutes, hair masks are a quick and easy way to provide your hair with lots of benefits such as adding radiance back into dry, damaged, or dull hair. 
Skincare Swap
Moisturizer: Lightweight moisturizers such as gel are perfect for the summer months when your skin is producing more oils, but once it starts getting cooler, your skin will not produce as much oil. Because of this, switching to a creamier and heavier moisturizer for maximum hydration will be beneficial for your skin.
Serums: If you want to take the extra step for ultra hydration, serums are the key. Serums are great for all year round but your skin will especially thank you during the sudden temperature drops. Serums help replenish lost moisture, giving you long lasting hydrating skin. Use serums after you moisturize as an extra step to your skincare routine.
Bedsheets: Wake up in comfort with smooth and hydrated skin. Silk bed sheets are Ultra smooth to keep your body and face hydrated all night long. Their ultra smooth and hypoallergenic fibers help keep your face and body hydrated all throughout the night without stripping your skin of moisture. When it comes to the ultimate beauty sleep, silk sheets are must-have investment with natural benefits that will last a lifetime.
As summer temperatures start to slowly drop to cooler and drier air, your hair and skin may start to feel the impact. We hope these tips will help your hair and skin stay hydrated and healthy during mother nature's shift!