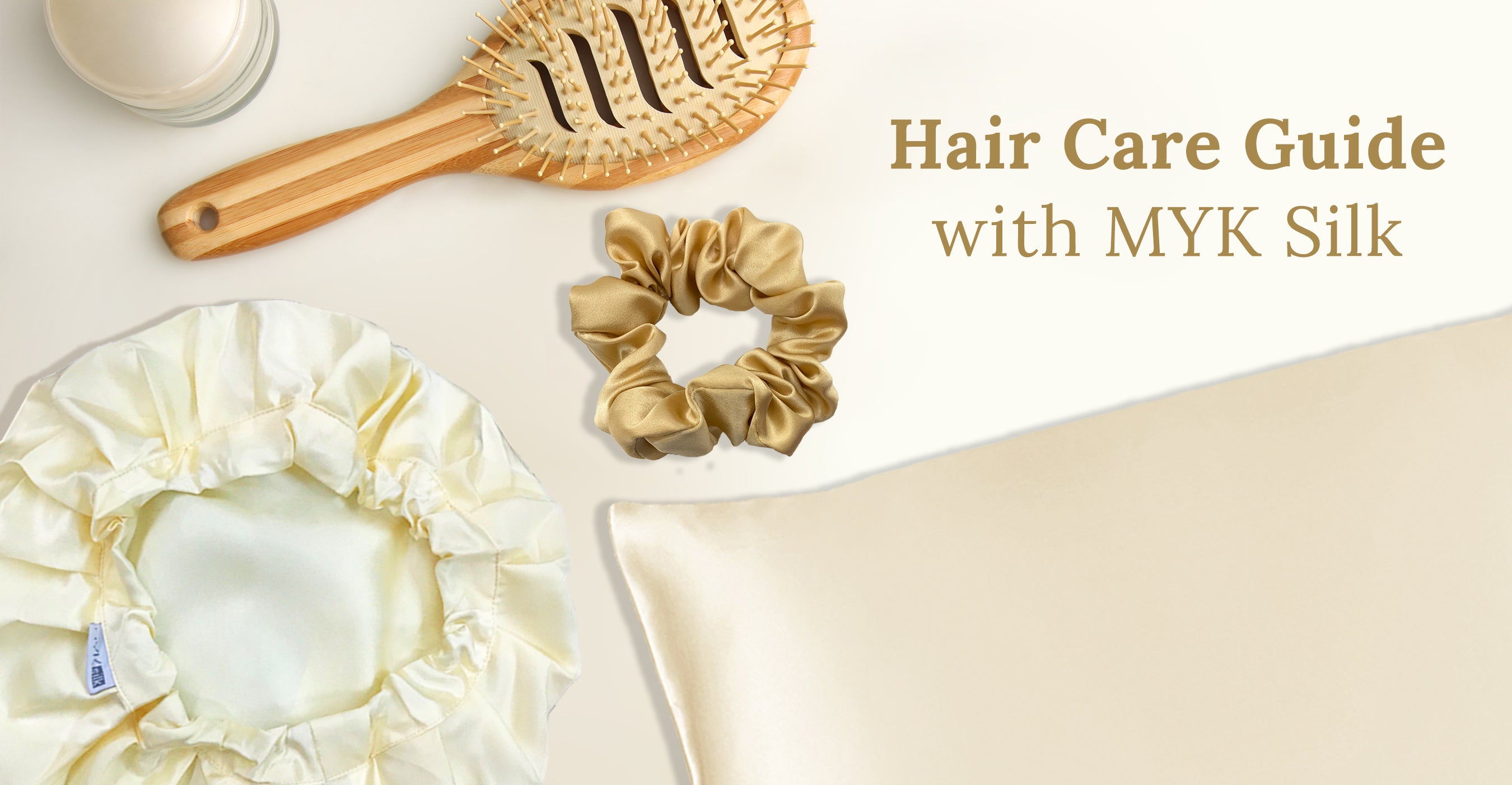 Hair Care Guide with MYK Silk
The best thing about silk is that it works with all hair types, whether you've got curly, frizzy, straight, wavy, short, long, or thick hair, silk will take all your worries away from waking up with frizzy or dented hair. MYK Silk is made of 100% Pure Mulberry Silk, that means it'll protect your hair from tugging and becoming dry and damaged while you sleep. Read on to see how MYK Silk products will keep your hair stay healthy while you sleep and looking luxurious when you wake up!
Protect Your Hair While You Sleep
No more stress worrying about your hair when you're tossing and turning throughout the night. MYK silk caps will nourish and help lock in hair treatments, serums, and oils in an enclosed protective moisture wicking layer. Use a silk hair cap to protect your hair while you sleep. The Silk cap will prolong your hairstyle overnight while you get to toss and turn as much as you want. Start your mornings feeling good about yourself and your hair! 
Tips:
-Front pineapple for long hair, high bun or low bun for any length of hair you have
- Make sure all your hair is secure in the silk cap
- Don't fiddle with it too much after you take your silk cap off in the morning. Let it settle on its own and lightly tossle if needed
No More Dents and Tangles
Traditional hair ties are known to pull and tug on the hair strands causing friction and tension. Our pillowy-soft silk scrunchies glide on the hair reducing those creases and telltale ridges. Created with 100% pure mulberry silk which are rich in natural proteins and amino acids that are designed to keep your hair moisturized and feeling healthy all day. Each silk scrunchie is crafted with a wider elastic band to lessen pressure on your hair while simultaneously giving enough grip without being too slippery on the hair. MYK Silk scrunchies are also designed to stay in your hair all day while giving your locks superior volume without causing any static in the hair. 
Tips:
-Use the silk scrunchies to tie up your hair to put in your silk cap, that means double the hair protection
- Great to throw into your bag for on the go, or as an accessory 
- Works with any hairstyle
Silk Pillowcase: Beauty Sleep Must Have
 Say goodbye to hair breakage, dents and frizz and say hello to waking up with healthier and silky smooth hair. MYK Silk pillowcases are made of 100% mulberry silk which will allow your hair to smoothly glide over the pillowcase instead of it snagging and weighing your hair down unlike other materials such as cotton.  A smooth surface equals less friction. Silk also helps prevent unwanted flyaways and frizz and locks in your hair's natural moisture while you sleep. Wake up to tangle free luxurious hair!
Tips:
-Use with our silk caps or alone
- Great for travel and easy to travel with so you can get your beauty sleep and healthy hair anywhere you go!
We hope this guide will provide you with the most luscious hair, choosing silk is the first step to no more waking up to damaged hair!